FairPlay Review
100% Welcome Bonus up to ₹10,000
New Customers Only. 18+. T&C Apply.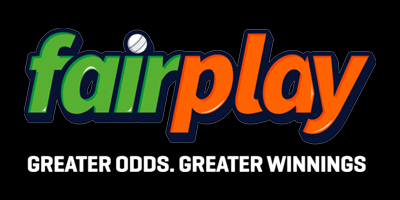 FairPlay.Club is primarily a betting exchange and sportsbook, but they also feature a live casino and slots for customers who seek a little extra fun. Their focus is definitely on live dealer games, assuring new customers that they won't be facing bots but real people instead.
They are only a relatively small online casino, mind you, working with perhaps a dozen or so providers, offering fewer games than much of the competition. Then again, the casino was only launched in 2020, which makes them one of the newest in the market and leaves plenty of room to grow.
What irritated us somewhat is that there is no information available about the owner and/or operator behind FairPlay.Club. They are not mentioned anywhere on the homepage, which is quite unusual and doesn't necessarily instil a lot of trust.
Be that as it may, we have taken a thorough look at them and here is what we have found.
Security and licensing – How trustworthy is FairPlay.Club?
It is an important measure of an online casino just how trustworthy they are. You are playing with your hard-earned money here and apart from wanting some harmless fun, you wouldn't mind winning a little bit now and then and withdraw your winnings securely.
We found no indication that that won't be possible at FairPlay.Club. There aren't many reviews available about them online nor have we found a lot of customer reviews. But those we did find seemed positively inclined towards FairPlay.Club and we have heard nothing about fraudulent activities.
One concern is the license, which appears to be from Curacao eGaming but cannot be verified. Usually, online casinos link their license information, and they also publish their company name and registration number. None of that is the case here. There seems to be no reason for the omission, and we would really like to see it added to the homepage. It would give us more confidence when recommending FairPlay.Club to you.
As it is, we recommend that you don't throw all your money at them. If you are curious about what they have to offer, register an account, deposit a little money, check out the welcome offer, play some card games and withdraw your winnings or remaining funds to see how everything works here.
Welcome Offer and Promotions
The large banner at the top of the homepage informs us of some promotions and bonuses happening at FairPlay.Club. If you click on the fold-away menu (sometimes called burger menu), you will find a link to the 'Promotions' page, where promotions are sorted into their respective categories, depending on which gambling product they are for.
Casino players get the clear preference here as there is only one sports bonus but several casino promotions.
However, the bonus in the sports section is actually the welcome bonus, which is a deposit bonus for new customers. Whilst it says it is a 100% match bonus, a breakdown shows that this very much depends on how much you end up depositing:
A deposit of INR 500 and 999 will give you a bonus of INR 500
A deposit between INR 1,000 and 4,999 comes with a bonus of INR 1,000
A deposit between INR 5,000 and above offers a bonus of INR 3,000
Unfortunately, no further information as to bonus conditions or wagering requirements are nowhere to be found. Some details are in the 'Rules and Regulations', which we recommend you read carefully.
Beyond that FairPlay.Club also offers a 5% referral bonus and what they call a 12% interest on your FairPlay balance. This certainly sounds interesting, but again, no details are available for this bonus, and we therefore don't know how it works or whether it is worthwhile.
Additionally, there is a loyalty club, which you become a member off when you register an account here. There are four levels to climb, and the main benefit seems to be an increasing deposit bonus with every deposit you make, starting at 0% on the lowest level and climbing to 6% on the higher level.
Seasonally, there may be other promotions or tournaments, where players can win cash or prizes as well.
Games and products FairPlay.Club
Aside from offering a betting exchange and a sportsbook, FairPlay.Club also prides itself on its live casino, their live card games and slots. The focus appears to be on the live dealer games, however, for which there are also several promotions.
We would like to be able to give you a more in-depth idea of what their casino looks like, but unfortunately it is not possible to visit it without registering an account at FairPlay.Club. You can click on the link, but it will ask you to register. And if you want to 'continue as guest', you will simply be taken back to the homepage.
On the homepage they do at least list the game providers they are working with, which includes Microgaming, Evolution Gaming, Booongo, BetSoft, Ezugi, Realtime Gaming as well as a few more. Some are better known than others, but there aren't many providers in total.
When we asked the customer service team about their games, they told us they had over 100. It wasn't clear whether this referred to their live casino games or total number of games. We do expect that they will have more than a hundred slot games available, though, and that they perhaps have about 100 live casino games, which is solid.
Since this casino is geared towards customers from India, they do have Andar Bahar and Teen Patti available in their library, which is great.
And let's not forget that there is a betting exchange, which focuses on cricket, tennis and football, as well as a premium sportsbook, where other sports are also available for betting. This is something you won't know unless you sign up here because the sportsbook is also not freely accessible.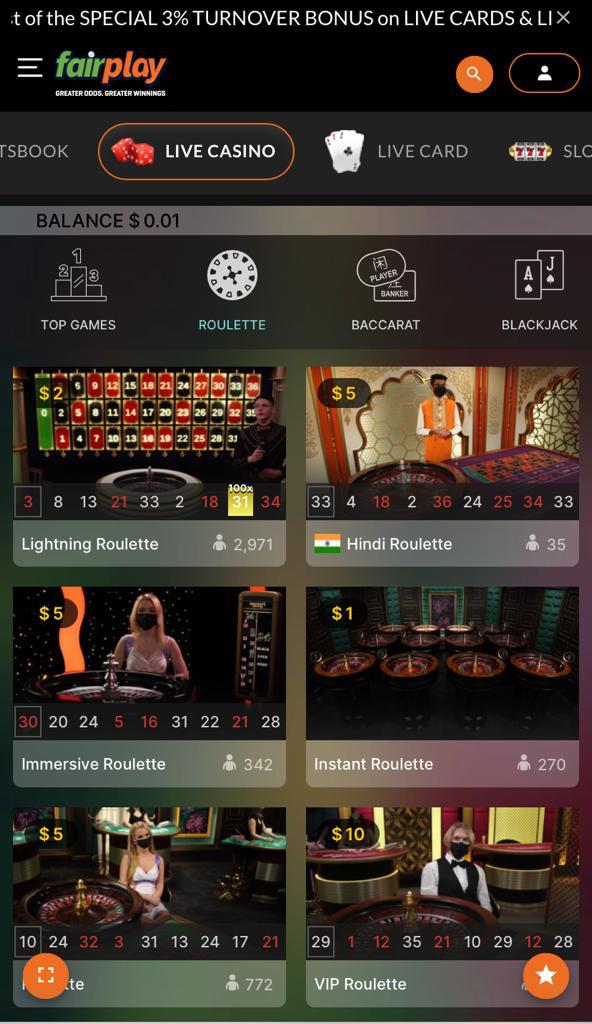 Payment methods at FairPlay.Club
FairPlay.Club does not offer a separate banking page, but they do display available payment methods on their homepage. As a casino primarily inviting players from India, you will find convenient deposit and withdrawal options such as UPI, PayPal, PayTM, PhonePe, GPay and bank transfers. Various cryptocurrencies are also accepted.
The default currency at FairPlay.Club is INR, but customers from outside of India will be able to use PayPal or GPay should they wish to deposit in other currencies.
Be sure to also check out the FAQ section, where some details about minimum and maximum transaction limits are available. By the way, even though this is a relatively small online casino, a withdrawal limit is not mentioned, though you can also ask customer service for confirmation if you are worried.
Remember that you will also need to get your ID verified at some point. We know little about the KYC process at FairPlay.Club, so be sure to get this done soon after you register your account here.
A somewhat tone-deaf customer support
We would happily overlook some of the issues at FairPlay.Club, if we could at least fall back on the customer service here. Unfortunately, you may find your experience with them rather frustrating. We certainly did. When we asked them about sports you can bet on or how many games you can play at the casino, they told us to "register and take a look" – repeatedly. We told them we didn't want to do that yet and that they should be able to provide us with this information, but they stuck to their script for a while.
Eventually, we did get some information out of them, but by that time we had somewhat lost our patience as well.
In any case, there is the FAQ section and the 'Rules and Regulations', which are the terms and conditions elsewhere. Whilst we found the site somewhat lacking in transparency, especially when it comes to the ownership behind it, there is still plenty of information to read up on.
And yes, the live chat is available 24/7, if you feel like giving it a go.
Design, usability and mobile play
The design of FairPlay.Club is fairly standard. It's neither modern nor outdated and falls in line with many other online casinos that have opened up in the last few years. It doesn't stand out with any particular features either, but simply does what it should. For the most part, anyway.
Unless you have an account here, you can certainly claim that the functionality of the site is horribly lacking as there are many parts of it you won't be able to access. And even if you try to access them as a guest, you only end up back on the homepage.
You can't even take a glimpse at the available games here, never mind trying any of them in demo mode. That really is a pity and doesn't offer us a good impression of the casino as we are simply locked out.
The same is true for the mobile site, of course. Whilst it is as well done as should be expected, you get no further access here.
Players who want to sign up and play mobile, can at least look forward to a mobile app as well, which you can download directly from the homepage. We don't know whether it is available for iOS and Android, however.
Verdict: An online casino for Indian customers that doesn't show its cards
A common thing we found with other reviews of FairPlay.Club is a lack of detail. Unless the information is available on their homepage or via further links on their site, nobody really knows what the sportsbook or the casino look like. Since there is no free access, we can't tell you whether their casino is good or not. We can only offer our impression and that's not sufficient in our book.
They might have one of the best casinos out there, but you will have to take a leap of faith when you sign up and hope for the best.
It is difficult to understand why FairPlay.Club chose to do this as it doesn't inspire confidence in their product. We would really hope this changes in the future, but clearly it has worked for them this far.
So, as an overview, here is what we liked:
Live casino and slot games
Offers a betting exchange and sportsbook
Convenient payment options
24/7 live chat
Our summary of what we don't like:
Most parts of the sportsbooks and casino can only be accessed after creating an account
Curacao license cannot be verified
Customer service is tedious
Unknown owner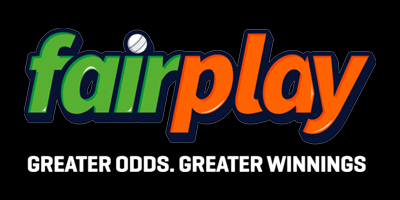 100% Welcome Bonus up to ₹10,000