On the 18th of March 2019, the online casino JeetWin with mainly-focus on the Indian marked launched Bollywood Diva exclusive for its customers only. Bollywood Diva is created by JDB, a first of its kind celebrity featured online slot game. JDB is one of the best Asians game providers, if not the best. The celebrity used on this slot is no other than the famous Indian actress and model, Sunny Leone. This Bollywood star is now the brand ambassador for JeetWin.
Sunny Leone Brand Ambassador
Sunny Leone is a world well-known Canadian born-Indian American actress and model who first got known covering MTV Video Music Awards on MTV India back in 2005. Since then she has done a lot different TV shows like the Indian reality TV series Bigg Boss and hosted the MTV Splitsvilla, also a reality show in India.
Sunny Leone did adult entertainment earlier in her career (2002-2013), she won very many awards in the adult industry and is the most searched after celebrity in India. She made her Bollywood debut in "Jism 2" (2012), and since 2013 she shifted her focus to more mainstream acting.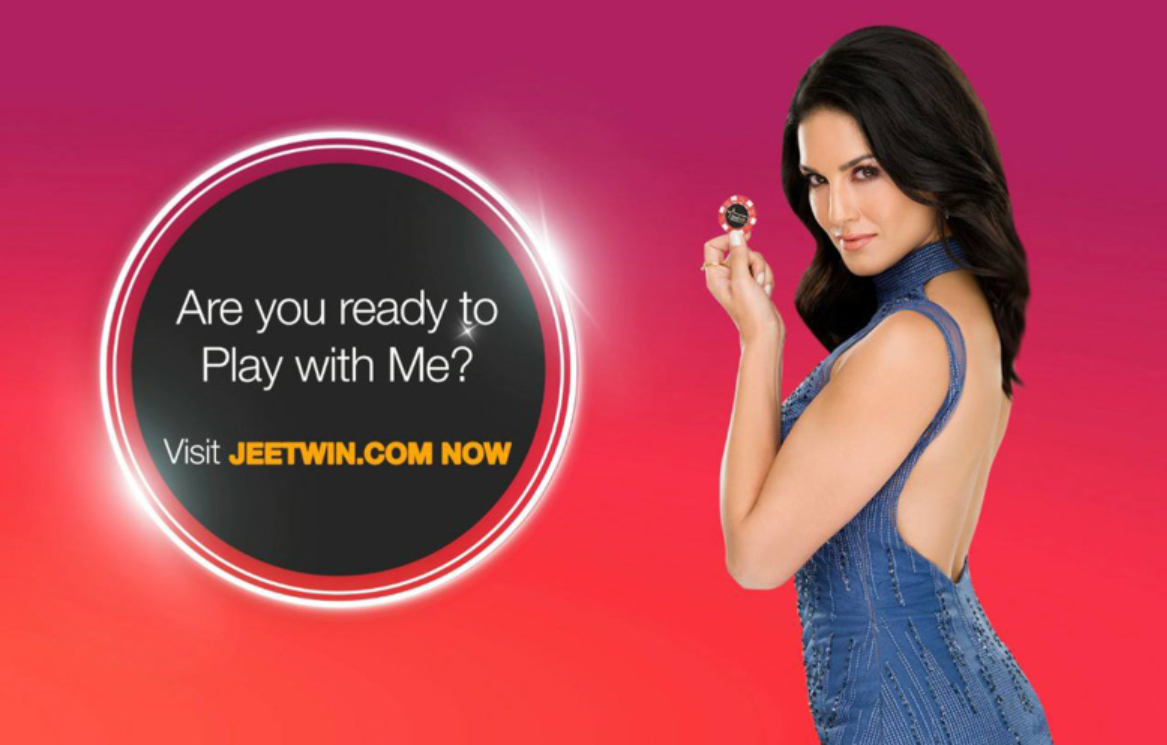 This slot is a first-of-its-kind celebrity featured online slot game dedicated to Sunny Leone one of the most famous persons in India that now is the brand ambassador at JeetWin. We already wrote a blog post about Sunny Leone becoming the brand ambassador at JeetWin that you can read.
Theme and Graphics
Of course, since this is the first of its kind celebrity online slot the focus is all about the Indian celebrity Sunny Leone. This game is a beautifully designed online slot that is inspired by the Hindi cinema.
The theme on this slot is most definitely set to be Bollywood with the reels being placed on the cinema screen, while you sit in the audience with more seats around you.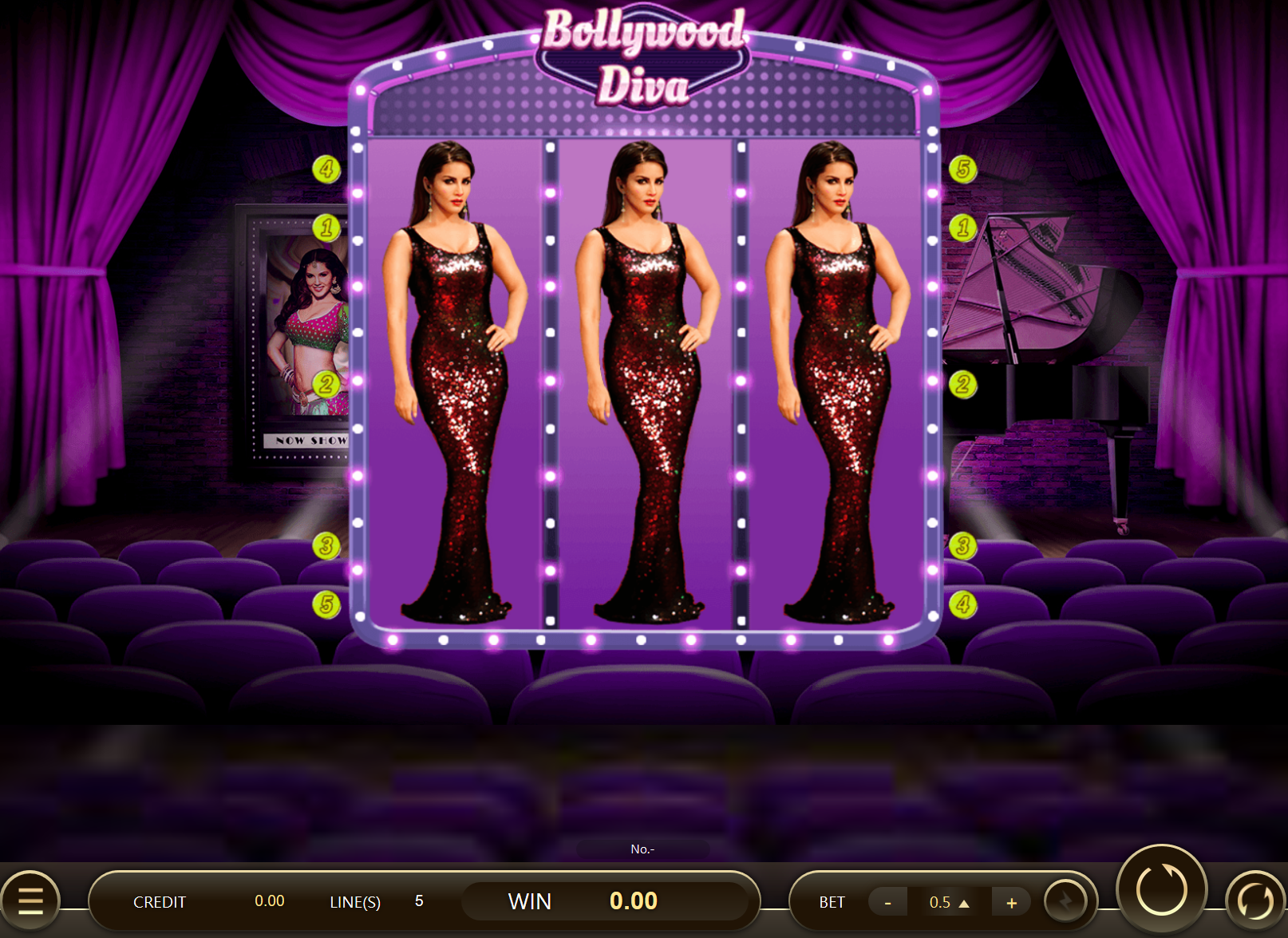 Next to the reels, you got a poster of Sunny Leone to the left, and a piano to the right. On the side of the reels, you got a good looking purple curtain and some empty seats. The coloring used in Bollywood Diva is dark purple and pink, with some relaxing type of jazz music that goes very well along with the theme.
All over we think that JDB did a great job on developing this slot as it looks very nice and the gameplay is actually good. In the future, we will probably see a lot more of these celebrity themed online casino slots since Bollywood Diva is such a great slot.
Symbols, Re-spin, and Jackpot
On the casino slot Bollywood Diva you play with 8 different symbols that can combine a winning combination. Here is a list explaining all the different symbols you play with on Bollywood Diva from highest payout to lowest;
A wild symbol that's a picture of Sunny Leone – 3x = 300
A golden star with a picture of Sunny Leone – 3x = 200
An orange circle with a microphone – 3x = 100
A purple circle with a saxophone – 3x = 50
A vinyl plate with a music note – 3x = 25
3BAR icon – 3x = 15
2BAR icon – 3x = 10
1BAR icon – 3x = 5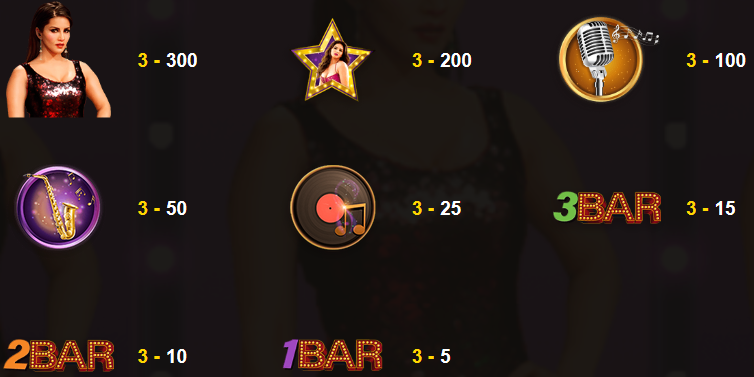 All these winnings show for 1x bet multiplier. The wild symbol can substitute for any other symbol to combine a winning combination. These are all the symbols that are used on the online casino slot Bollywood Diva. Unfortunately, there is no type of bonus symbols since this casino slot doesn't have a dedicated bonus feature.
Re-spin Feature
The re-spin feature is the only special feature on the online casino slot Bollywood Diva, but this is a really fun feature that can result in big winning combinations.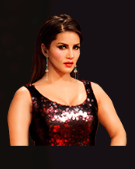 To activate the re-spin feature you need to get 1 wild symbol on any of the 3 reels you're playing, and the reel that lands the wild symbol will substitute any 2 other symbols with a full reel of wilds, and it will then re-spin until you hit a winning combination.

This is a really fun feature that guarantees you to land a winning combination. The re-spins will always be triggered in the same bet amount as you had when you originally got the first wild. Re-spins are of course free so you don't pay per spin until you combine that hopefully huge winning combination.
Jackpot
Unfortunately, the online casino slot Bollywood Diva doesn't offer any special bonus feature or a jackpot feature. The highest amount possible to win is 1000x your bet, and to get that you need all 3 reels covered with Sunny Leone.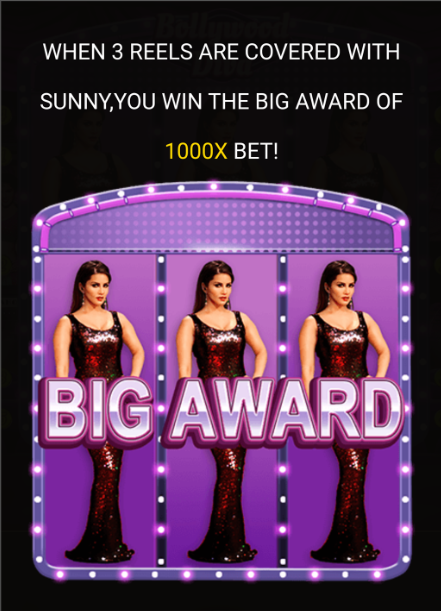 But remember when an online casino slot does not offer any type of bonus game or jackpot feature the winnings in the normal game often tend to be higher and come more often in slots like Bollywood Diva that doesn't pay out huge jackpots.
How to Play
This is one of the easiest online casino slots you can find, but yet it's so fun to play and doesn't get boring over time. You are playing 3 reels in 3 rows with 5 lines, and the only thing you can adjust before starting to play is how much the bet size should be.
You're playing 3 reels in 3 rows
5 fixed paylines
You can choose from bet size from ₹0.5-250
Autoplay is available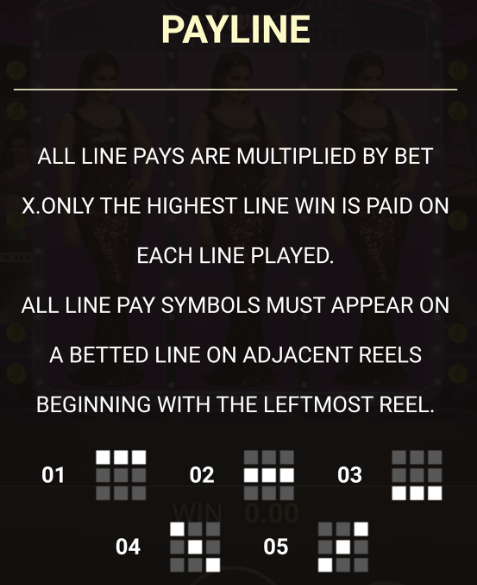 Autoplay function is indeed available on Bollywood Diva and you can choose anywhere from 100-999 auto-spins.
So all you must to before spinning them reels are choosing your bet size per spin and your ready to enjoy this brand new first of it's kind celebrity online casino slot. This is such a simple but yet such a great online casino slot. If you're new to online casino slots this is definitely one of the easiest slots to start out with.
The new online casino slot Bollywood Diva can only be played exclusively at JeetWin!
Mobile Play
You can play the online casino slot Bollywood Diva on any platform you prefer, it's available in a browser on mobile, tablet or laptop. JeetWin also got its own dedicated mobile application for iOS and Android.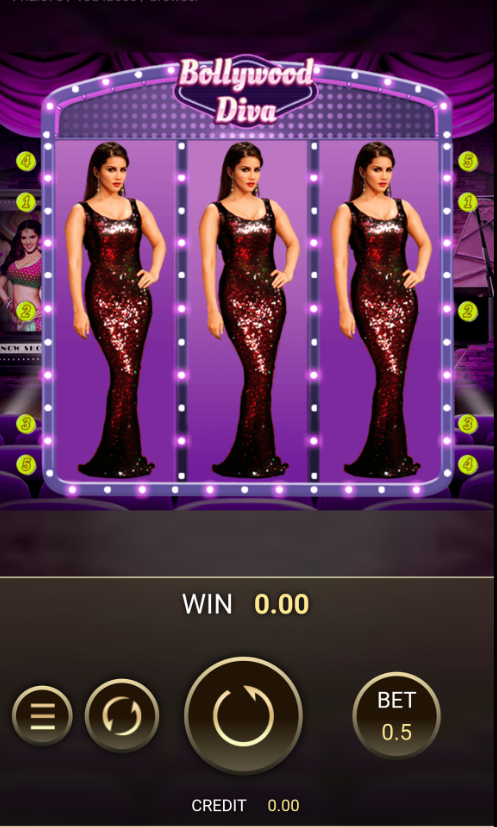 The slot looks amazing on mobile and the application at JeetWin offers a 24/7 customer service. You can play your favorite online casino game, sports betting, slot games, table games, and many more anywhere and anytime you want with JeetWin mobile application.
Return to Player (RTP)
Since JeetWin is the only online casino that offers Bollywood Diva, and they have not published any RTP on the slot, nor have JDB published it's RTP on their homepage. So, for now, we don't know what RTP Bollywood Diva has.
But we suspect the RTP to be high since the slot is missing a bonus feature and a jackpot. Often when a slot doesn't have a big jackpot or a bonus feature the RTP tends to be way higher on that slot. (compared with huge jackpot slots like mega moolah.)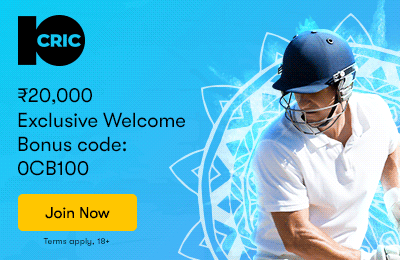 When they publish the RTP on Bollywood Diva we will update it here as soon as it's available.
Verdict
A beautifully designed online slot that is super-easy to play
This is a really easy-to-play online slot that new casino players who are familiar with Sunny Leone or not, really can enjoy playing. But more experienced casino players will probably miss a feature or two on this slot.
Being the first of its kind celebrity slot JDB brings a solid casino slot exclusively for JeetWin costumers. One cool thing to notice is that Jeetwin also offers a no-deposit bonus so you can even make an account and try Bollywood Diva for real money for free if you're not yet a customer.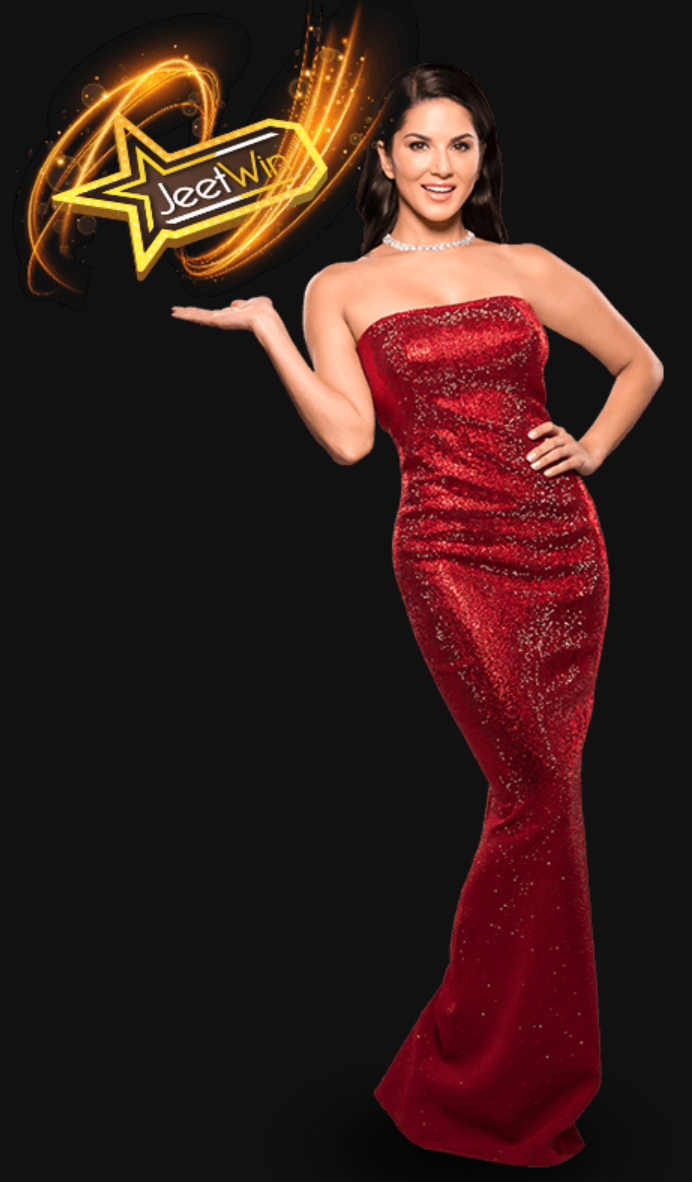 This slot draws a lot of similarities to the online casino slot Starburst. If that is the type of slot you prefer, then Bollywood Diva will be a perfect followup for you. If you have not signed up at JeetWin yet, we recommend you do and try this amazing first-of-its-kind slot. We have done a full review of JeetWin India in the past that you can read.
Bollywood Diva FAQ
Where can I play Bollywood Diva?
You can only play Bollywood Diva exclusively at the online casino JeetWin.
Does Bollywood Diva have a jackpot feature?
No, unfortunately, Bollywood Diva doesn't have a jackpot feature. The highest amount you can win here in one spin is 1000x your bet.
Can I try Bollywood Diva for free?
Yes, JeetWin got the option to "play as demo" meaning you can try Bollywood Diva for free before depositing and start to play for real money.
Who is the game developer behind Bollywood Diva?
Bollywood Diva is developed and created by JDB, the biggest game developer in Asia, and one of the best game developers we know of.