Mega Moolah is an online casino slot developed by Microgaming, one of the largest and best online casino game developers there is. This fantastic jackpot game got created back in 2006, and since 2007 it has been paying out well-known million jackpots.
Mega Moolah – Theme & Graphics
Basically, it's a progressive jackpot online casino slot with a lot of awesome features to it. This is a jackpot slot, so of course, that's where the focus of Mega Moolah is.
Mega Moolah got an amazing looking African theme and bringing you beautiful sounds to it. Giving you a feeling of being on a safari while spinning em reels. In the background of the reels, you got a lovely sunset over the Savannah with some nice coloring and great looking threes.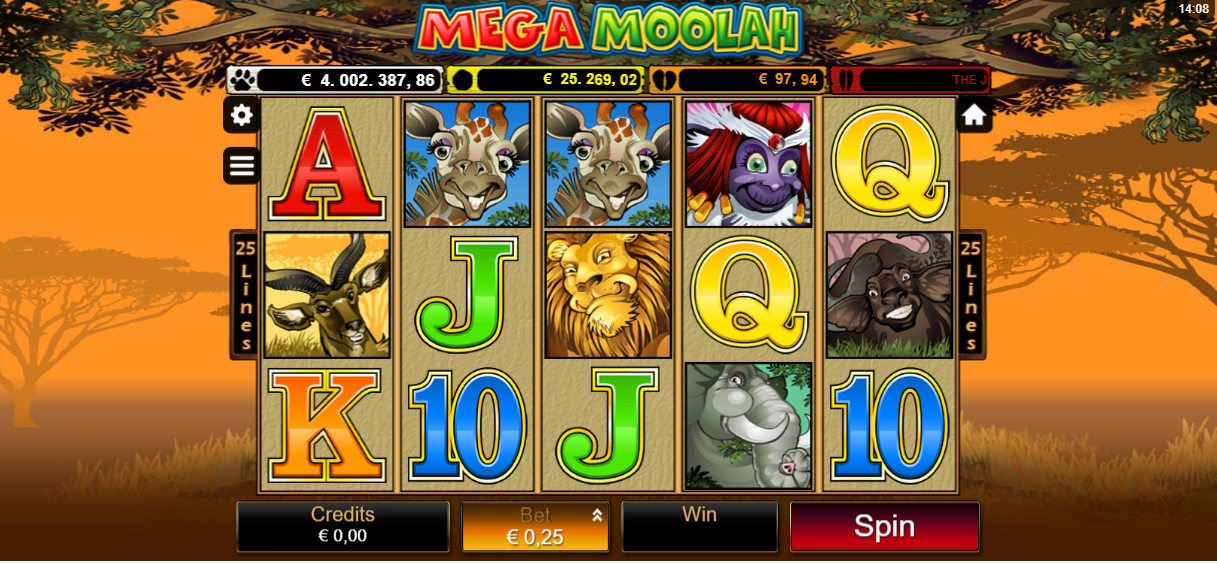 You don't get bored playing this slot since the theme looks so good and the symbols are nice to watch, and we can't hide the fact that the thrill of knowing the jackpot feature can occur at any time.
Jackpots, Free Spins, Symbols, and Other Great Features on Mega Moolah
Here we gonna explain all the different symbols and features Mega Moolah has. Let's start with the most exciting one:
Mega Moolah Jackpots
This is an online casino slot that got 4 different progressive jackpots. The difference between a progressive jackpot and a regular jackpot is that a progressive one always increases the jackpot until it is won, and a regular jackpot stays static at the same amount until won.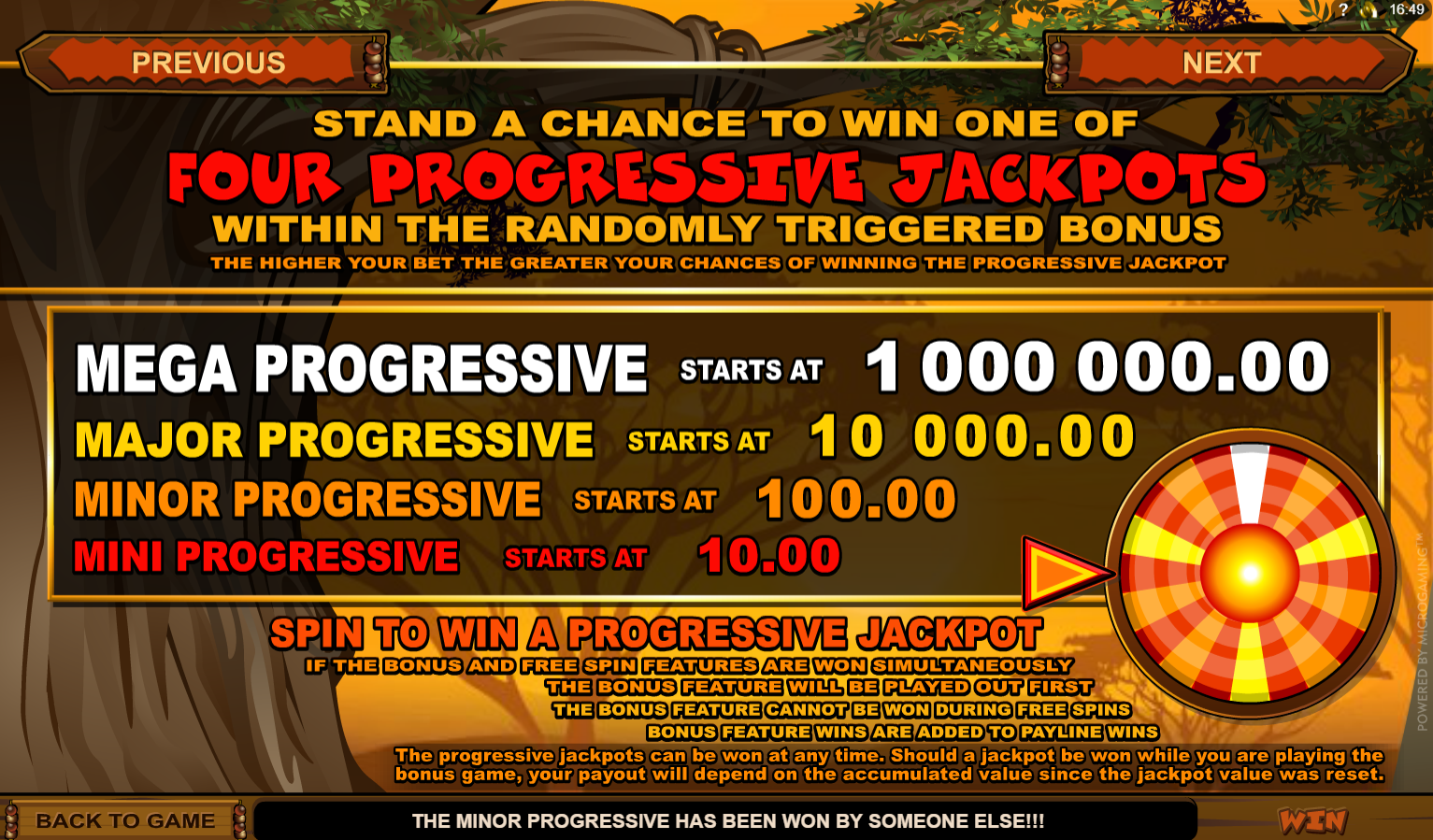 The 4 jackpots Mega Moolah offers is called mini, minor, major, and mega.
These start on different values and keep increasing until a player has won it, then the bonus that has been won will be reset to the starting value. The starting value of each jackpot is:
Mini: Begins on €10
Minor: Begins on €100
Major: Begins on €10,000
Mega: Begins on €1,000,000
All these 4 Jackpots just keep increasing until they are won and then reset to the amount above.
Mega Moolah Bonus Feature
The bonus feature on Mega Moolah is where you can win the 4 different bonuses mentioned right above. This feature doesn't have its own symbols but will occur randomly at any given time while playing. When this bonus suddenly occurs, you will be able to spin a big wheel that will give you a chance on all the jackpots.
This bonus feature has a higher chance of occurring on higher stakes per spin.
Once the bonus wheel appears the chances of winning each different jackpot on the wheel stay the same no matter what stake you spin on. Basically, you get more bonuses on higher limits, but the bonus pays just the same on any stake.
Mega Moolah Free Spins
While most online casino slots that come with a big jackpot feature don't usually offer any other feature on that slot except the jackpot. Mega Moolah really brings fun and a lot of different features to enjoy while spinning for the big jackpots.
You can get free spins if you get 3 or more scatter symbols anywhere on the reels. The scatter symbols are a monkey and if you get 3 or more, that will automatically trigger the 15x free spins function. While playing the free spin feature all wins are multiplied 3x and free spins can be re-triggered while this feature is active.
Mega Moolah Symbols
Additionally, to a bonus feature and free spins, this amazing casino slot also comes with WILD symbols that double your win while substituting for another symbol.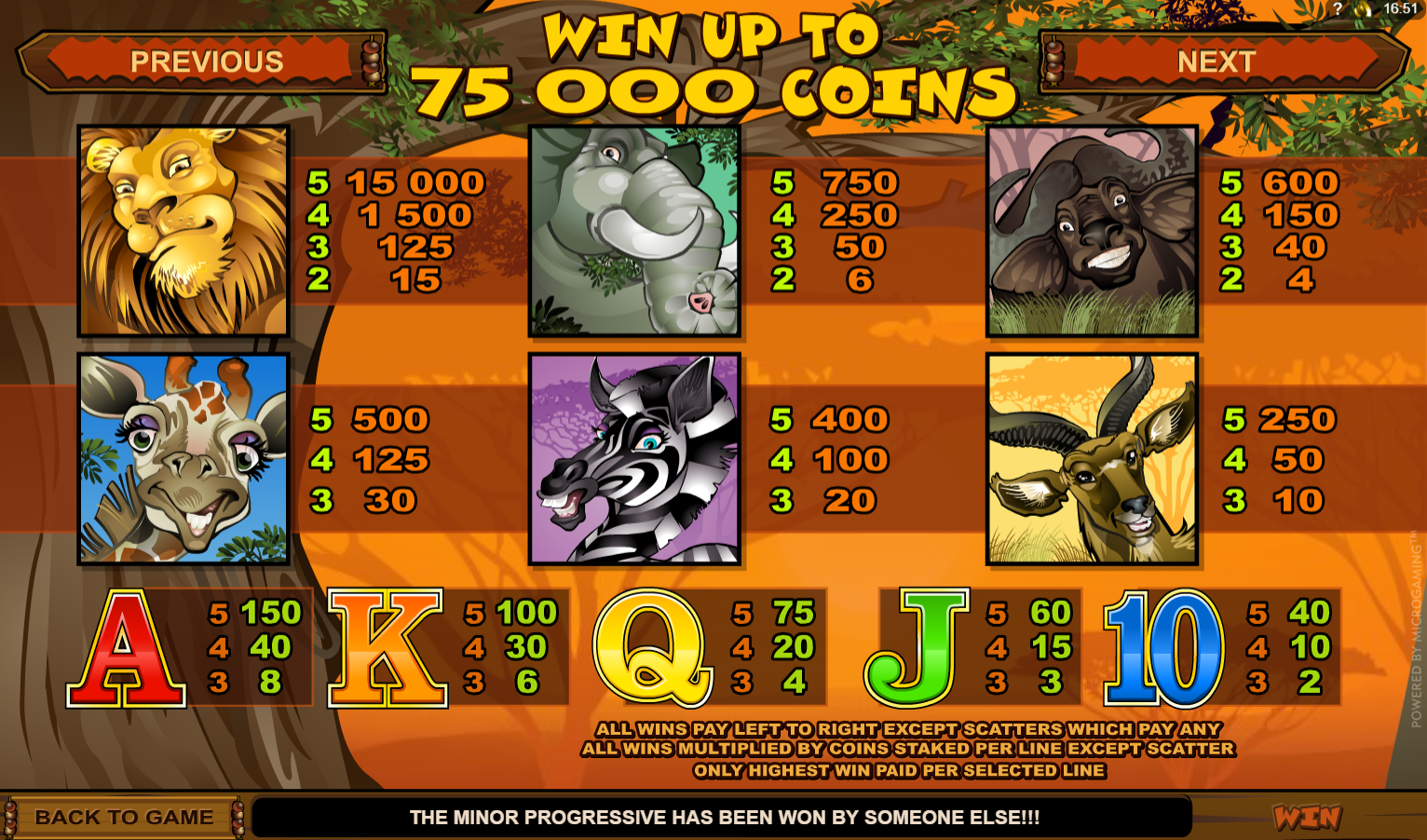 Other than that it comes with the symbols 10, J, Q, K, A, and some different animals that are worth more and are great to look at when playing this African themed slot. These animal symbols are an Elephant, a Giraffe, a Buffalo, a Zebra, and an Antilope.
How to Play Mega Moolah
Basically, you have 5 reels in 3 rows, and you are playing 25 lines. The only option you got on this slot is that you chose the coin size and coins per line. So the option you got here is to select a coin size from €0.01-€0.05 and you must choose coin per line from 1-5. This makes a minimum bet on the slot on €0.25 per spin, up to the maximum of €6.25 per spin.
Mega Moolah also got the autoplay feature if you don't like to push the spin button over time.

So all you need to do to get started playing is to choose how much you want each spin to cost, then you're ready to spin the reels for the progressive jackpots and many more big prizes.
Best Place to Play Mega Moolah in India
Mega Moolah is the most popular progressive jackpot slot that you can find at any online casino. Mega Moolah got developed by Microgaming and the slot is available at all online casinos that have games from Microgaming in their game library.
LeoVegas is a great place to start if you don't know where to find Mega Moolah and you want a good Indian online casino to play at. If you are not yet registered at LeoVegas you can click the green button in the box below and claim an awesome welcome bonus.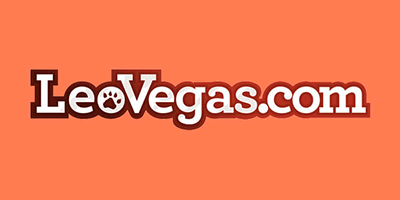 LeoVegas Casino Bonus
Up to ₹30,000 in a Royal Welcome Bonus Package
Claim Bonus
Wagering: 30xB+D
New Customers Only. 18+. T&C Apply.
If your not familiar with LeoVegas at all, and want to know more about this great online casino before signing up at it, you can read the full comprehensive review we have done about LeoVegas India.
Return to player (RTP) on Mega Moolah
The return to player (RTP) is now on 88.18-96.98%. The RTP might not always be the best, but considering the big progressive jackpots it's ok we think.
Earlier Mega Moolah Jackpot Winners
Since the first progressive jackpot has been won in 2007. This slot just keeps on beating its own records in the highest Jackpot payout among any online casino slots out there. Here is a list of all the Mega Moolah progressive jackpot winners since 2007.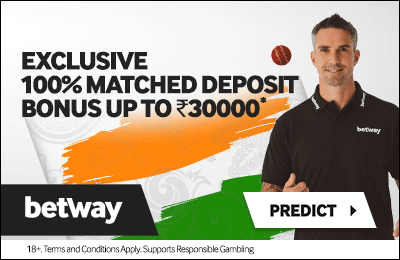 One big win that still holds the Guinness record for the largest payout in an online slot machine is Jon Heywood from Cardiff. He won a staggering €17,879,645. The Mirror had an interview with the lucky winner, read more about it here.
Verdict
Mega Moolah is one of the most exciting slots we know of, the free spin feature combined with the progressive jackpots makes this an absolute fantastic slot to play on.
Mega Moolah has a great theme and is fun to play for hours and hours. It's very well-designed and beautiful to look at. One of the main reasons its been able to keep up its popularity is because of the record-breaking jackpots it keeps providing.
Another big plus for this online casino slot is that it's not all about the progressive jackpot wheel that can occur at any given time, but all the other features this casino slot brings as well as the progressive jackpots.
Who doesn't love getting some free spins and wilds while waiting for the big jackpot. If you have not tried out the online casino slot yet we recommend you check it out.
Mega Moolah FAQ
Where can I play Mega Moolah in India?
Mega Moolah got created by Microgaming, meaning you can find it at any online casino that got Microgaming games in their library. We have reviewed a lot of online casinos that have the favorite online progressive jackpot slot available, so why not find a great bonus offer, and try this amazing slot out for yourself.
What special Features does Mega Moolah have?
Mega Moolah has some great features, but its a progressive jackpot slot, so of course that's where the focus of the slot is. But Mega Moolah has a bonus wheel, a free spin feature and it even has a WILD symbol that can help you combine some winning combinations.
Does Mega Moolah hold the record for the biggest single win?
Yes, a record win from 2015 does still holds the record for the biggest single win on any online casino slot. Jon Heywood from Cardiff won €17,879,645 and could claim the Guinness record on that win.
Is Mega Moolah available on a mobile or tablet?
Yes, Mega Moolah is available to play on any platform directly in your browser or at any dedicated mobile applications. This game got a great design and looks awesome on all platforms.
Can players from India play Mega Moolah?
Yes, a lot of Indian-friendly online casinos have Microgaming and Mega Moolah in their game library. Players from India should have no problem finding an online casino that has it available.