Starburst got released in 2012 by NetEnt, a well-known Swedish game developer. This slot has been one of the most popular, if not the most popular online casino slot since it got released among online casino players. Simplicity together with a beautiful theme combined with great graphics and big wins are key to its success.
Graphics and Theme
The theme of Starburst is set to be in space, in the background of the reels you can see stars floating around giving you a feeling traveling in space. The symbols being used on the reels are very beautiful and shiny gemstones and planets. Sound too is just amazing on Starburst, whenever you win a decent amount the music makes the thrill of winning extra exciting. We will get more into the details on each symbol further down.
Simplicity and fast-phased fun is a key element in Starburst, while many other online casino slots often offer a bonus or something extravagant, Starburst just keeps it simple and fast-phased. On this casino slot you play on 10 lines each spin, but you can win both ways, giving you in reality 20 lines to win at.
Other then the possibility to win both ways, Starburst got a wild feature that can trigger a re-spin for up to three times covering the reels with wilds. Further down we explain all about this feature.
Jackpot, Re-spin, Symbols, and Other Features
Symbols
The theme is as mentioned earlier set to space, and of course, the symbols match the beautiful theme of Starburst. Below is a list of all the symbols and how many coins they pay each if gotten on a full line. List from top rewarding to the least rewarding ones:
A classic golden bar symbol orbiting the sun. (250 coins)
A lucky 7 symbol orbiting earth. (120 coins)
A yellow diamond (60 coins)
A green emerald (50 coins)
A red ruby (40 coins)
A blue sapphire (25 coins)
A purple amethyst (25 coins)

Besides these symbols, you got one more special symbol that acts as a wild and can substitute for any of the symbols mentioned above to combine a winning combination. Not only will this substitute the symbols on that reel but it will also stay for one extra re-spin feature that can last for up to three re-spins, but more on that feature soon.
The wild is a symbol that looks like a star with the color of all the other symbols combined. Starburst got such good and clean symbols, which makes it really easy to play since it's so lucid.
Re-spin Feature
If you land a 7 colored star that acts as a wild on this slot anywhere on the reel, that particular reel will be covered in wilds and you will get a re-spin automatically with the same bet you had when you got the wild. If you are so lucky that you get another wild on your re-spin, then this feature will re-trigger and you get another, this can occur up the maximum of three times.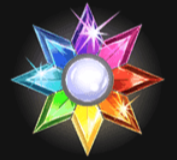 The wild symbol that triggers this feature can only come on reels 2, 3, and 4. But when you get paid both ways and you get all the 9 wilds in middle, Starburst got the potential to pay off good.
Jackpot
Unfortunately, you won't find any bonus game or jackpots on Starburst. The highest amount you can win is 50.000 coins, but when a slot doesn't offer a bonus or a jackpot the winnings tend to come more often, and can still be lucrative.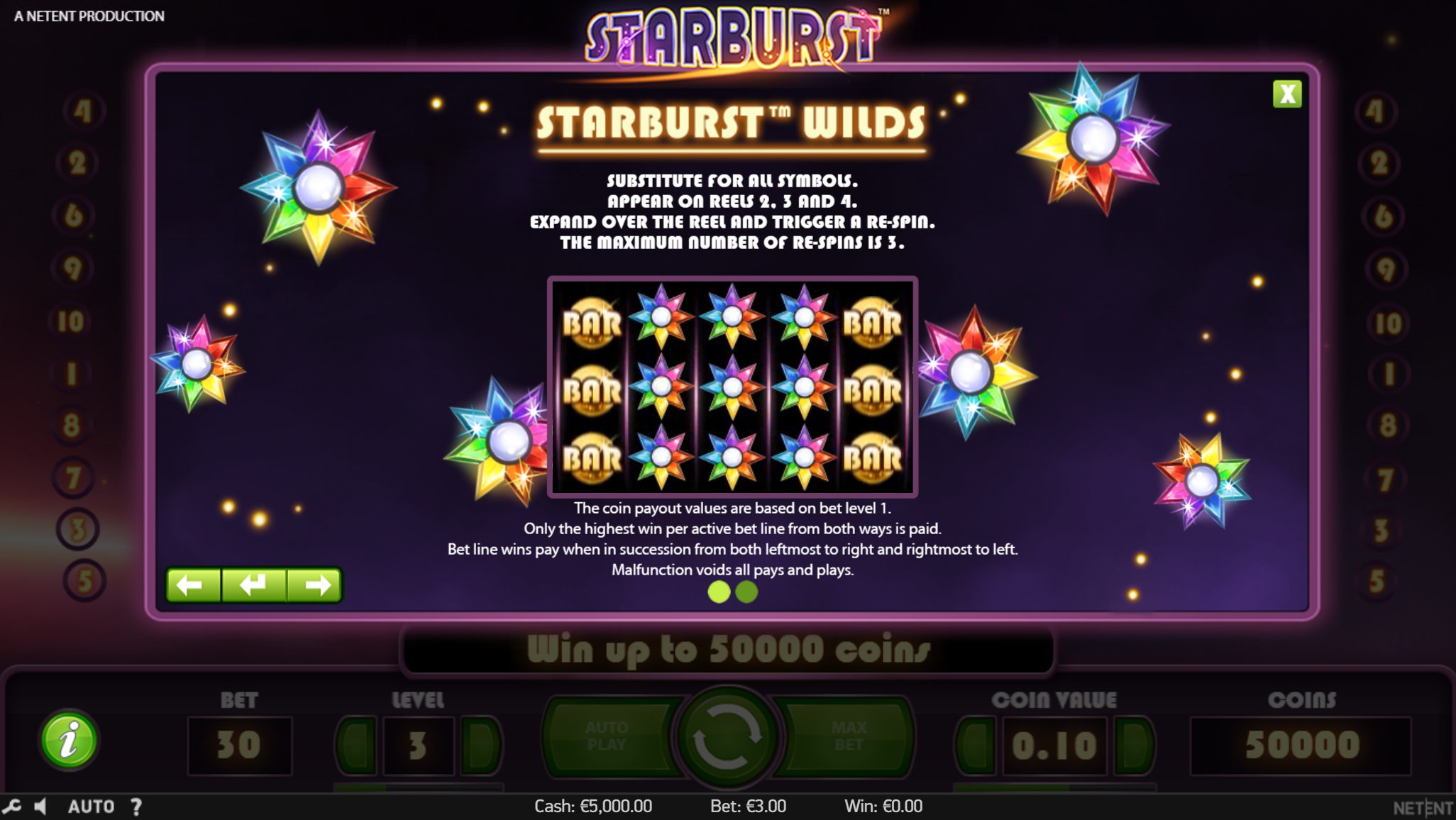 How to Play
Starburst got 5 reels in 3 rows played on 10 fixed bet lines, but since you can win both ways it's just like a 20 line slot. So all you need to do before starting spinning the reels is chose bet level and coin size. Here is a list of some options you get on Starburst.
Coin value from €0.01 up to €1
Chose bet level between 1-10
You are playing 10 fixed lines per spin
You can win both ways
€0.1-€100 Per spin

So to get a winning combination on Starburst you need three matching symbols either all the way from the left or all the way from the right. The only exception is when getting a wild that can substitute for any other symbol to combine a winning combination.
Autoplay
Starburst also offers an autoplay function that you can use if you don't like to click the spin button on every spin. Here you got some options you can set as you like before starting the autoplay.
Chose how many auto spins you want between 5-1000
You can stop autoplay on any win
You can stop autoplay when you reach the loss limit pre-determined
You can also stop the autoplay when reaching a winning limit that also is pre-determined
Return to Player (RTP)
Return to player (RTP) on Starburst is 96.1%. This is better than a lot of online casino slots out there since we know some of them often are very low. All NetEnt online casino slots have an RTP on 95 – 99%, and that is very high. You can expect to win more often here, than slots with lower RTP, but the winnings tend to be smaller.
Verdict
NetEnt has delivered a really simple online casino slot in Starburst, but yet so fun and fast-phased that you can play and enjoy for hours.
What we really are missing here is some kind of bonus game or free spin feature, but you got the re-spin feature so we think it's ok.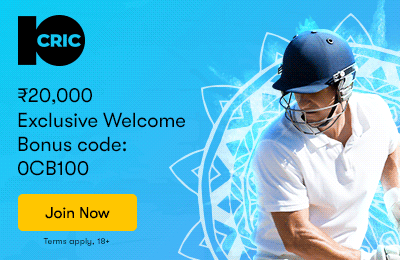 It's not randomly that Starburst has been one of the most popular online casino slots for so many years on almost every online casino. The design and gameplay are so simple and easy to understand.
If you have not tried any other online casino slots yet, we can recommend that you start with Starburst, since you can play down to €0.1 per spin, and the simplicity of Starburst is perfect for new players.
Starburst FAQ
Where can I play Starburst?
NetEnt created this revolutionary online casino slot in 2012. They are among the biggest and best game developers we know of, and their games can be found at almost all casinos. Be sure to check for Bonus Offers before signing up or depositing anything.
Why is Starburst so popular?
The reason why Starburst has been so popular since it's release has to be because of its beautiful design and great sounds. This game is so simple and fast-phased. It's the perfect online casino slot to start with if you're totally new to online casino slots.
What's the return to player (RTP) on Starburst?
The RTP on starburst is currently on 96.1%, one thing to notice is that all games developed by NetEnt have an RTP higher than 95%.
Is Starburst available for players from India?
Yes, since Starburst is developed by NetEnt, and so many Indian-friendly online casinos got NetEnt games in their library, Starburst shouldn't be hard to find at all when playing on a casino that caters players from India.