Teen Patti is an Indian card game that has become popular around the subcontinent as well as other neighboring Asian countries. We'll explain what the game is and how it is played in its most basic versions.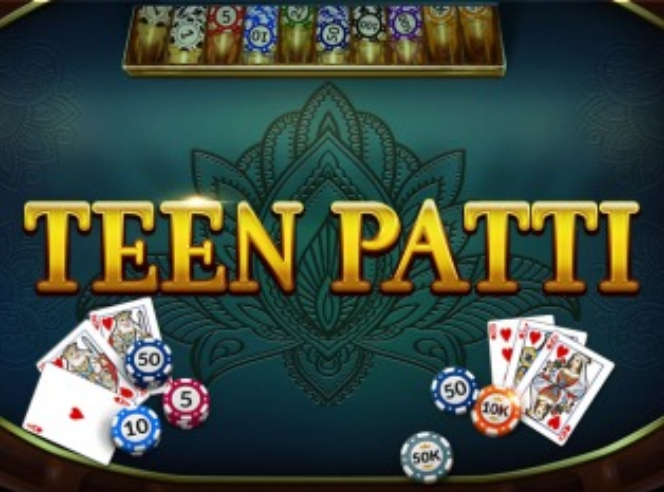 What is Teen Patti
Teen Patti (sometimes spelt Teen Pathi or even one-word Teenpatti) is essentially the Indian version of the British game 3 Card Brag. Played with a 52-card pack without jokers, the game is most suited for groups of 4 to 7 people. Sometimes the game is also called 'flash' or 'flush' or 3 Patti.
The hand rankings
Teen Patti means "three cards" and is indeed played with three cards. It is a version of Poker, if you will, though, in its most common version, players are stuck with the cards they are dealt and have no option exchanging cards or receiving further cards. Variations of the game include options with community cards, drawing or exchanging cards or winning with low-ranking cards).
Much like in Poker, cards are ranked resulting in hand rankings. Generally speaking, A is considered the highest-ranking card and 2 the lowest ranking card.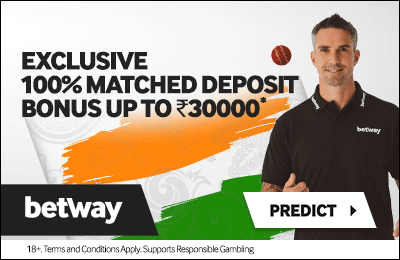 Since we are only playing with 3 cards, there are fewer winning options than in most Poker variations. From highest to lowest ranking, we are looking at the following hand rankings in Teen Patti:
Trio – Three of a kind: Three cards of the same rank. Naturally, three As are the highest rank and three 2s the lowest rank.
Straight run (Straight flush or pure sequence): Formed of three consecutive cards of the same suit (hearts, clubs, diamonds or spades). The highest straight run is A-K-Q, followed by A-2-3, K-Q-J, etc. The lowest straight run is 4-3-2. A sequence of 2-A-K is not valid.
Normal run (Sequence): Three consecutive cards of different suits. Once again, A-K-Q is the highest rank, the follows A-2-3, K-Q-J, etc.
Colour (Flush): Three non-sequential cards of the same suit (A-K-J would be the highest-ranking flush and 5-3-2 the lowest-ranking).
Pair – Two of a kind: Two cards of the same rank. If two players have the same ranking pair, the odd card determines the winning hand (K-K-J would beat K-K-9).
High card: Three mixed cards that can't be put in any of the above categories. The highest-ranking hand would be A-K-J of mixed suits and the lowest-ranking hand would be 5-3-2 of mixed suits.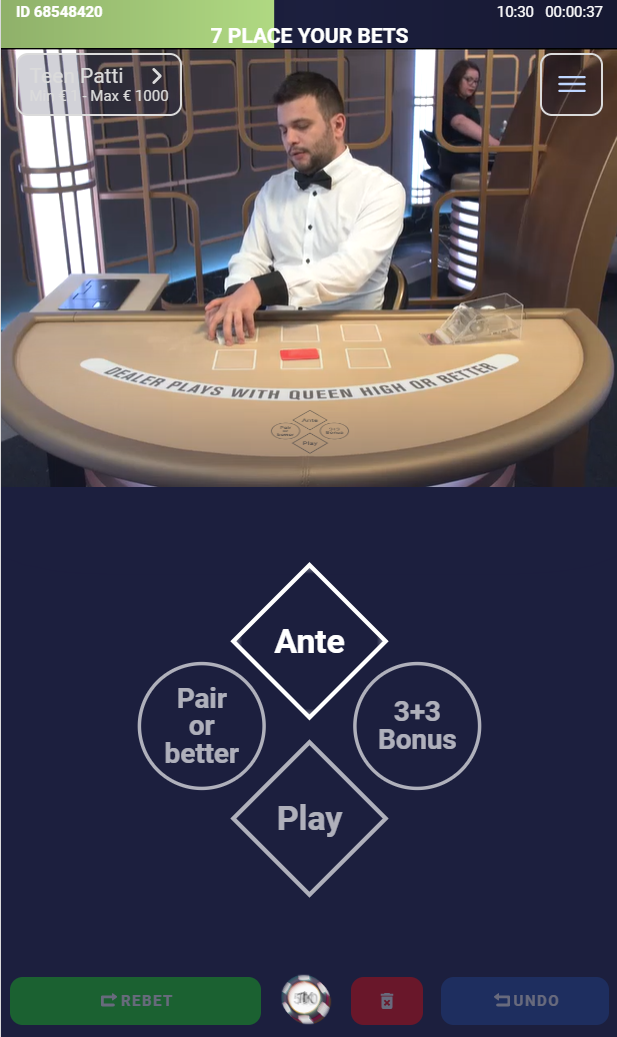 Keep in mind that a hand of a higher rank beats those of a lower-ranking type (as listed above). Thus, a straight run of 4-3-2 would be a normal run of A-K-Q. Just as a normal sequence of 9-8-7 would beat a pair of A-A-K.
Best Online Casino to Play Teen Patti at
Our top recommendation for an online casino to play Teen Patti at would be without a doubt the Indian focused 10CRIC. They have multiple live Teen Patti tables, and even live Andar Bahar tables, making it a very good online casino for Indian players.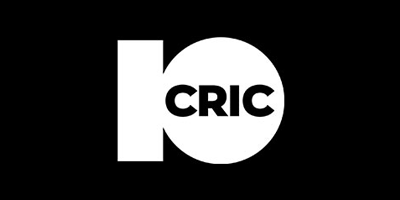 10CRIC Casino Bonus
Deposit ₹1,000 - Play with ₹2,500
Claim Bonus
Wagering: 40xB
New Customers Only. 18+. T&C Apply.
If you are not yet familiar with the online casino 10CRIC, we have done a full comprehensive review of 10CRIC India that you can read. They are known for having a lot of on-going promotions at all times that you can probably make good use of when playing Teen Patti and always remember to check for casino offers before depositing.
Starting the game
You should know the various hand rankings before getting into a game of Teen Patti. Just as you should know the betting rules, though we get into those below.
The dealer is determined randomly in a hand of Teen Patti. You may see that the dealer is determined by all players picking a card from the deck and the highest-ranking card will be the dealer, for instance. Whilst the winner of the hand will then be the next dealer or, in another scenario, the dealer will move counter-clockwise. Whichever the case may be, this will be determined in advance.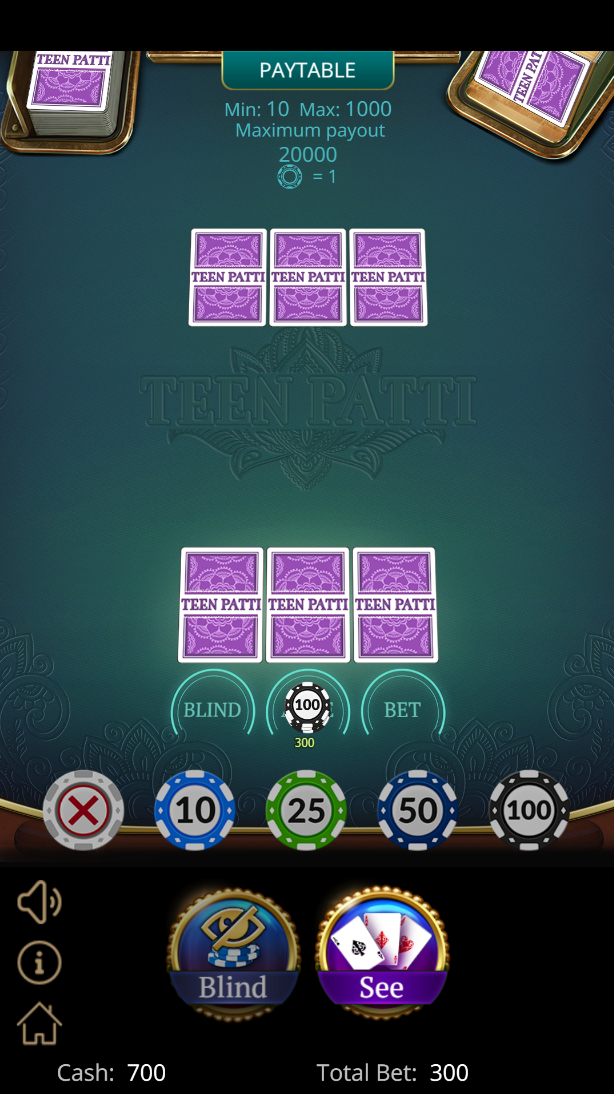 A game starts with every player adding a boot to the pot, which is essentially a buy-in. Then the dealer deals three cards to every player and the betting begins. Players can choose to play 'blind', meaning they don't look at their cards when playing their bets. Or they play 'seen', which means they choose to look at their cards. Whichever way they choose will then inform the betting rules they need to adhere to.
Betting rules
Once cards are dealt and players made their first choice of whether to look at their cards or not, the first round of betting begins. Unless a player has folded and is out of the game, everyone has to follow the same betting pattern. The initial stake is either set in advance or it matches the boot.
Players playing 'blind' have to bet as follows:
If the player before you plays as 'seen', you bet at least half the current stake or the current stake.
If the player before you plays as 'blind', you bet the current stake or double the current stake.
Players playing 'seen' have to bet as follows:
If the player before you plays as 'seen', you bet at least the current stake or double the current stake
If the player before you plays as 'blind', you bet at least double the current stake or quadruple the current stake
The current stake is always the bet placed by the player before you.
Show/Showdown
Betting will continue as per above rules until one of two situations arrive: 1) all but one player have folded, in which case the remaining player wins the pot; 2) two players remain in the game and one of them pays to have a show.
A show or showdown can only ever occur with only two players left in the game. Both players can ask for a show, though they will have to pay a stake for the show to happen.
Blind players:
You pay the current stake if the other player is also blind.
You pay half the current stake if the other player is seen.
You can't look at your cards until after you have paid for the show.
Seen players:
You pay the current stake if the other player is also seen.
You pay double the current stake if the other player is blind.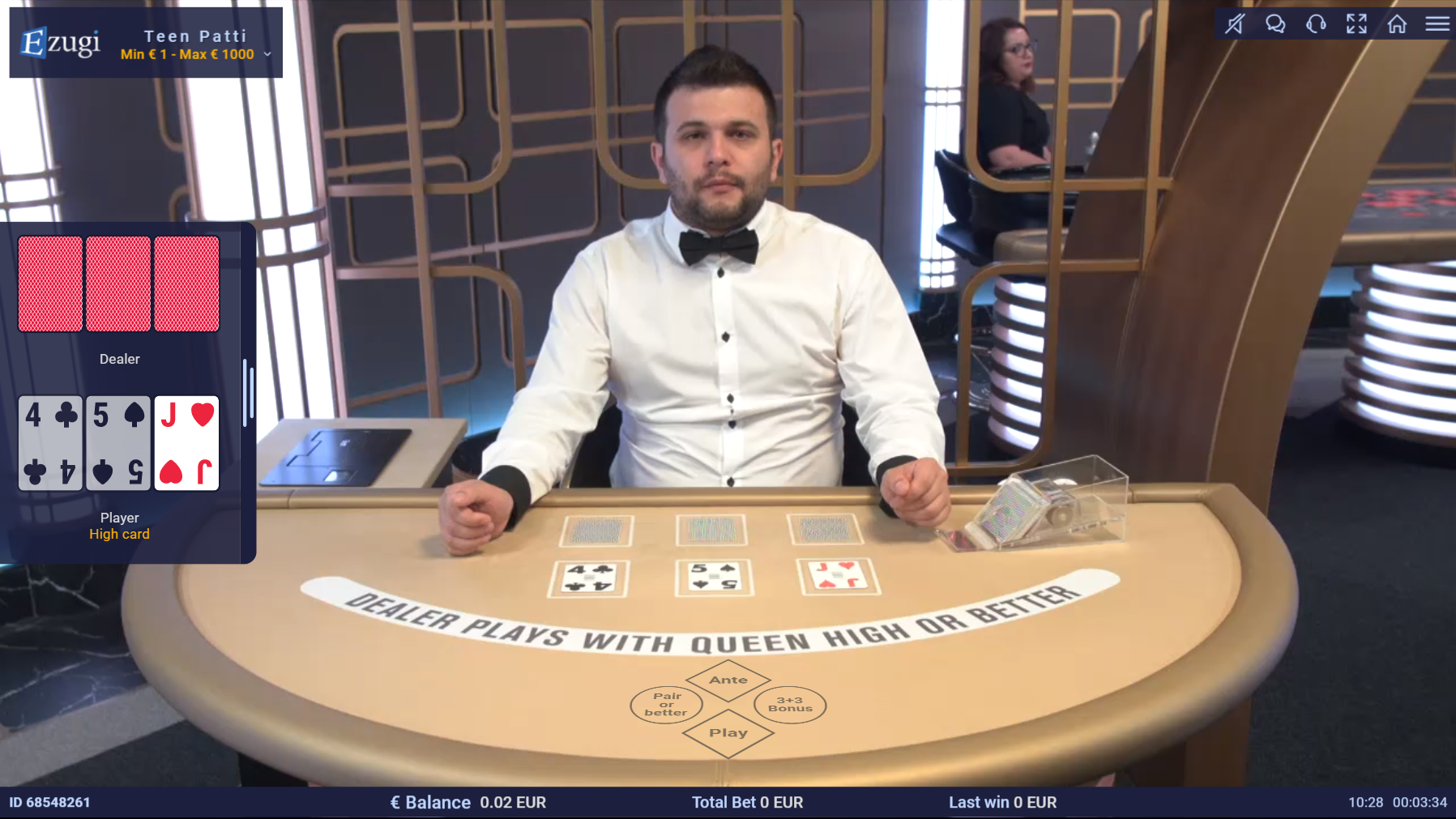 Once both hands are revealed, the higher-ranking hand wins the pot. If both hands are ranking the same, the person who did not pay for the show will win.
Sideshow/Compromise
This is a little side bet between two players that are seen. This can happen if you don't have enough money to match the current bet. Though players can only ask the player who immediately bets before them for a sideshow.
If the sideshow is accepted, the two players compare hands (privately) and whoever has the higher rank, wins the sideshow. The other player must fold. If the two hands have the same ranking, the player who asked for the sideshow must fold.
If the sideshow is refused, the player who asked for the sideshow must place a bet to continue to stay in the game or fold. Betting continues as usual.
Variations of Teen Patti
As already mentioned, there are variations of the game. Here are a few:
Best-of-four: In this version, players are dealt four cards and they must choose three of them to get the highest-possible hand ranking.
Muflis (lowball): The rankings are reversed. The player with the lowest-ranking hand wins.
Low wild: Each player's lowest card is considered a wild (only in the player's hands).
High wild: Here each player's highest card is considered a wild (in their hand only).
Community: Players are dealt two face-down cards and there are 1 or 3 (depending on the version) community cards with their faces up. Players may not form hands with only the community cards (in the 5-card version).
Draw: Once dealt their three cards, players are allowed to discard some of their cards and get dealt new ones. Usually, one card at a time is changed and a round of betting follows. Sometimes a new card has to be 'bought' for a predetermined amount, which will be added to the pot.
There are also some versions with extra jokers or wild cards, but the above ones are the most common ones you will find.
Playing Teen Patti online
If you want to enjoy a recreational game of Teen Patti, you can download various apps for iOS or Android and play with friends or against strangers for virtual coins. Finding such games is usually not difficult.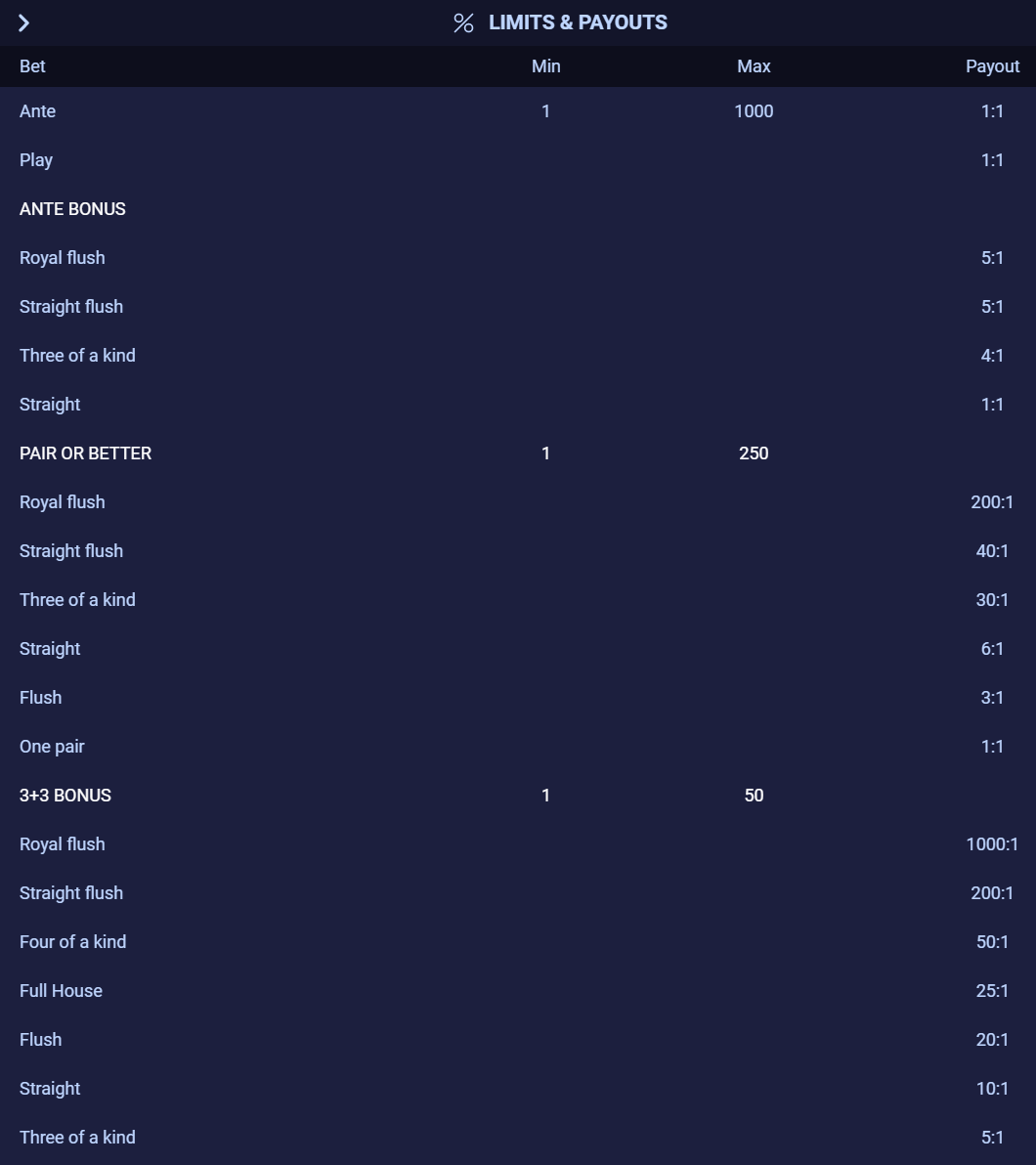 However, playing Teen Patti at online casinos for real money is a different matter. Right now, we could only find two proper Teen Patti online casino games, both games you can find at JungleRaja. Some other casinos that cater specifically to customers from India such as Jeetwin or Royal Panda don't seem to have a Teen Patti game available just yet.
There can be little surprise that one of our top recommendations for playing Teen Patti is the Indian online casino JungleRaja.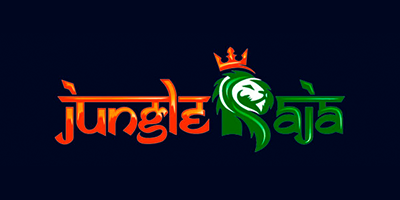 JungleRaja Casino Bonus
Up to ₹30,000 in Welcome Package + ₹500 Free
Claim Bonus
Wagering: 20xB
New Customers Only. 18+. T&C Apply.
FAQ about Teen Patti
Where can I play Teen Patti?
More and more Indian friendly casinos are adding Teen Patti to their live game library. We can recommend you to check out the super Indian-friendly casino 10CRIC and JungleRaja if you have a hard time finding a Teen Patti table online.
Is Teen Patti known under any other names?
Teen Patti is essentially the Indian version of the British game 3 Card Brag. Teen Patti is also known as "flush", "flash", or "3 Patti".
Is it different types of versions of Teen Patti?
Yes, you got some different variations of Teen Patti. Most known versions are best-of-four, muflis (lowball), low wild, high wild, community, draw, and you can find some more versions of the game that includes jokers and wild, but the ones mentioned here are the most common ones you find.