Kilic also is known as "Lucky Cards li", it's a new live card game developed by LivesGames Ltd. They made their first step into the iGaming industry in 2015. Delivering games with a player-focused design, easy-to-use mobile interface, and high-resolution live casino broadcasts. They are most known for their live bingo games. But are expanding their games portfolio to include live card games as well. In this article, we will go through everything you need to know to get started playing the new table game Kilic live at online casinos.
How is Kilic Played
It is a card game played with a single 52 cards deck that is dealt evenly between player and dealer, where you get 26 cards and the dealer gets 26 cards. During the betting before dealing out all cards, you predict the cards and combinations that will be dealt to you.
You can pick up to 9 classic cards, or you can choose some special combinations that are already determined. This is a very easy and exciting card game. Unlimited people can play in each round. (Just like in roulette, Andar Bahar, and many other online casino games.)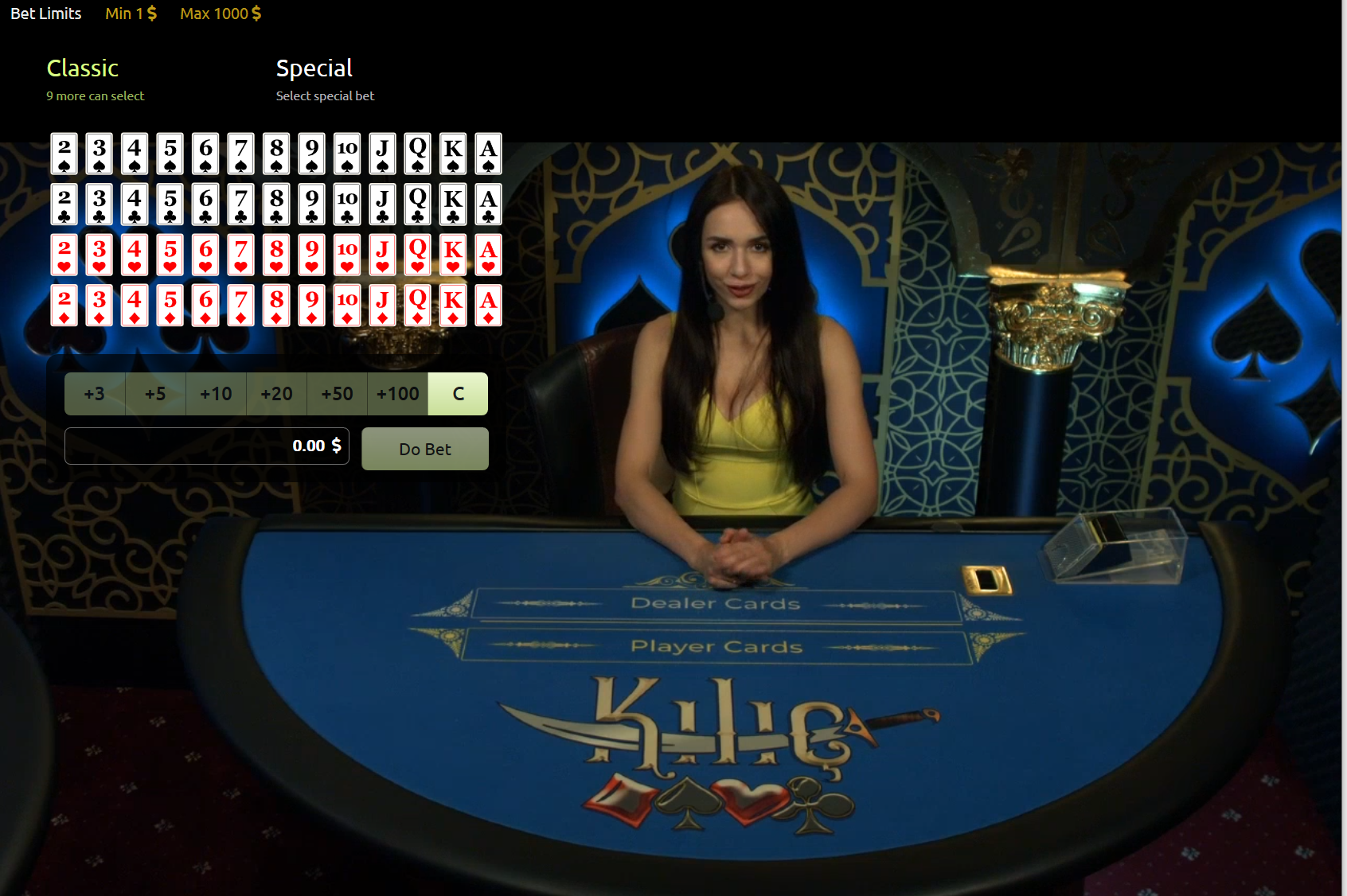 You got a 1-minute betting time to set all the bets you want before all betting stops and the dealer starts dealing out the cards. Then you just sit back and hope that the cards you've predicted, actually comes your way.
This is a typical card game where you bet on the outcome and just sit and watch. This game requires little skill and it comes down to who has the gods of fortune on their side at any given day.
One huge difference between Kilic and Andar Bahar, for example, is that in Kilic you can bet on up to 9 different markets each round, and get stacked odds on your choices. But for you to win in Kilic you must get all the cards you predicted.
In Andar Bahar, you only get to bet on either Andar (left) or Bahar (right) so you get only two betting options. One will have 1.90 in odds and the other will have 2 in odds depending on who gets the first card. So what makes the card game Kilic so unique compared to the other live online casino games is that you can get a really big win since the odds on each card you choose multiplies with each other. We gonna through every step and option you get while placing a bet in Kilic further down.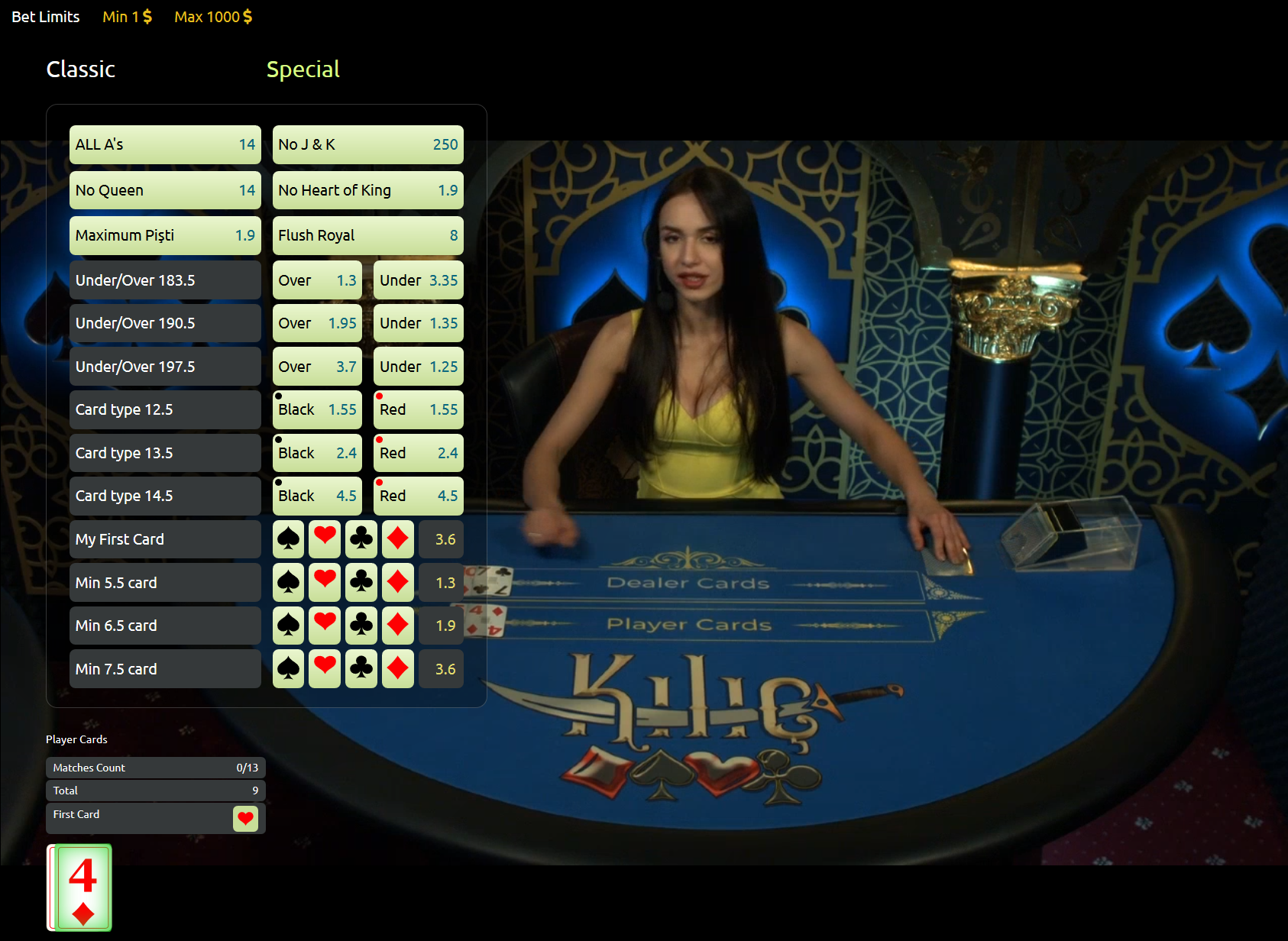 You can read about different strategies here and there, but none of these are foolproof and it just basically comes down to the luck of the cards. But with that being said, you can choose up to 9 cards each round with multiplying odds, meaning you should decide in advance if you wanna play risky with many cards and high odds, or try to play with few cards on lower odds.
We recommend you to make your own betting strategy before starting to play Kilic. This is surely a simple card game but its really exciting to watch as the cards come your way. We expect you will find the new live table game Kilic on many more online casinos in the future. Further down we tell you where you can play Kilic live online.
How to Place a Bet in Kilic
Here we explain the full betting process and all the betting options you got in the new online casino live table game Kilic. Before the dealer starts to deal out all 52-cards you got 1 minute to place your bets.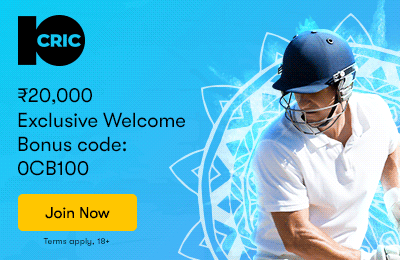 When placing a bet in Kilic you got two different betting categories to choose your cards from, one is called "Classic" and the other is called "Special". Next, we explain the different betting options you get in each category.
Classic
If you select the betting category "Classic" you get all the cards in a 52-deck up on your screen. In this category, you can simply choose anything from 1 card up to 9 different cards out of all the 52 cards in the deck. For every card you select the odds will multiply as you add more cards, and your winnings will be higher if you succeed in getting all your predicted cards.
Here we gonna give you some examples from betting in the "Classic" category and how the odds increase whenever you add another card.
All the 52-cards in the deck give 1.90 in odds each and when selected more than one card they multiply with each other. So if you pick 4 of diamonds, 6 of clubs, 8 of spades, and 7 of heart. That would give you the following odds, 1.90*1.90*1.90*1.90=13.03 so if you bet 100 INR on this the return would be 13.03*100=1303 INR.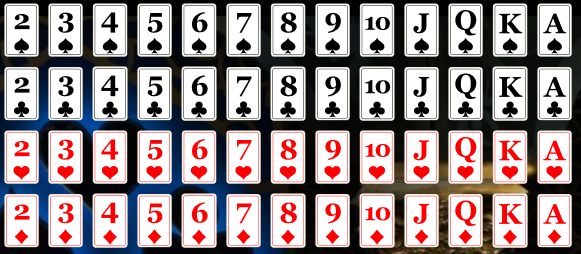 As mentioned above you can select only 1 card if you like, but you also can choose up to 9 different cards each round and the odds will multiply on each choice you add. For a maximum odds of 323.
Special
If you select the betting category "Special" you get in total 34 different options you can bet on. These are combinations already pre-determined in Kilic. Here is a list showing you some different combinations you can find in the Special tab with given odds for that market behind.
All A's – 14
No Queen – 14
No J or K – 250
No heart of King – 1.90
Royal flush – 8
Under/over 183.5 (total points) – 3.35 / 1.30
Card type 12.5 (red or black) – 1.55 / 1.55
My first card (suit) – 3.66
Minimum 5.5 of a chosen suit – 1.30
One thing to be aware of is that the Special tab might give you better odds on certain combinations like getting all 4 A's gives you 14 in odds in special, while 1.90*1.90* 1.90* 1.90=13.03 if you pick them in Classic tab.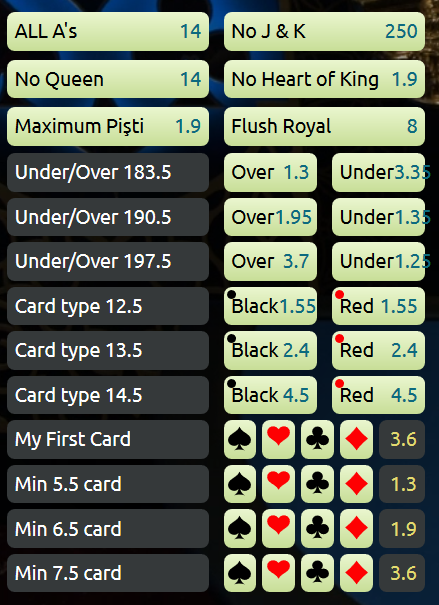 You also got some more options for the over/under, card type, and minimum cards of a given suit. In addition to all these special options, you got one more betting option in the live game Kilic that you can bet on. The last option you got is called "Maximum Pishti".
Maximum Pishti
If a player hand has more then 7 Pishti points in total player wins. Pishti scores are:
All kind of A's and J's = 1 point
2 of club = 2 point
10 of diamonds = 3 point
These are all the different options you get to bet on during the 1-minute betting time you got before the dealer starts dealing out all 52-cards.
Playing Kilic Online
Since Kilic is a fairly new live table game in the online casino world, not all casinos have it yet in their game library. This is unfortunate we think because it seems like this game is exactly what the average casino player from India prefers when it comes to playing on live tables at online casinos.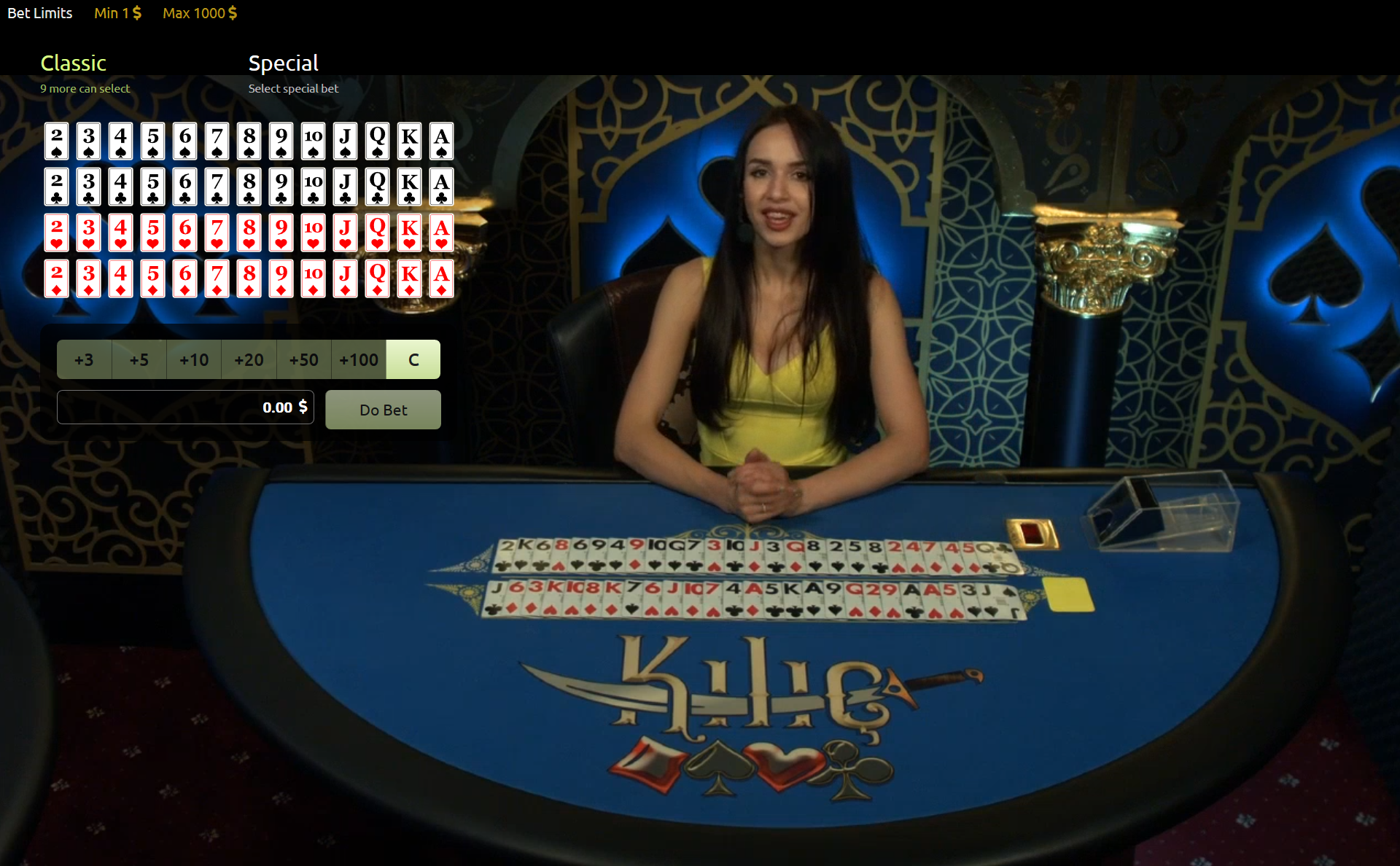 It is a very simple card game, where you just make your bets and watch as the cards get dealt by the dealer. Kilic does have a lot of similarities to Andar Bahar as mentioned earlier, but it just offers so many more betting options, and all cards will be dealt out each round offering more excitement each turn.
One online casino that offers a Kilic live table is 1xbet.com, we already did a full review of 1xBet India. If you have not registered on 1xbet yet why not grab an awesome promotion or a casino offer that you can claim in the box under while trying out this new live table game Kilic.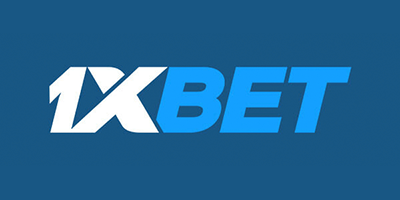 1xbet Casino Bonus
130% Welcome Bonus up to ₹26,000
Claim Bonus
Wagering: 5xB
New Customers Only. 18+. T&C Apply.
We think more and more online casinos will add Kilic to their game library as the popularity of this game will probably increase over time since its such a fun, simple and exciting card game
Playing Kilic on Mobile
All casinos that got the new live table game Kilic in their live casino library also has it available for mobile play. This live game looks just as good when played on a mobile or tablet, as it does when played from a desktop computer.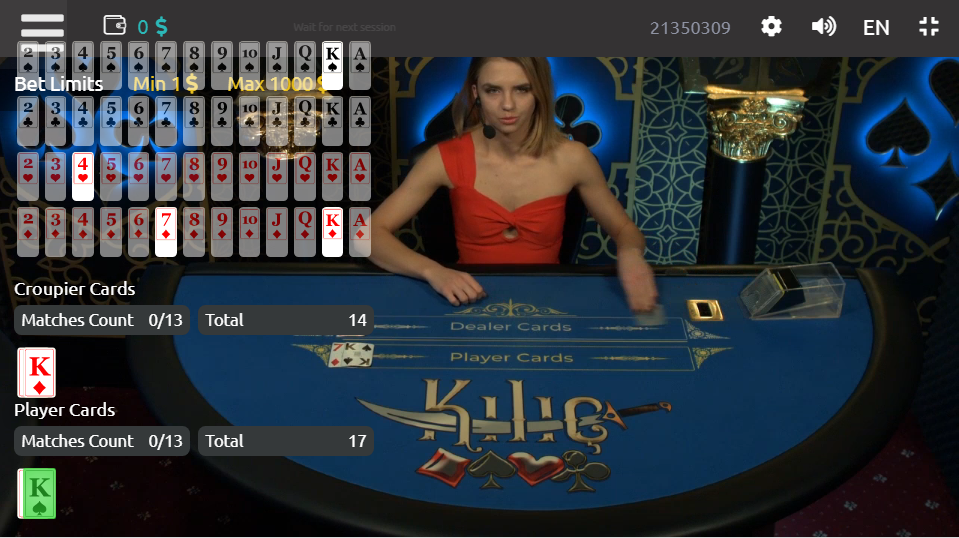 You can play Kilic on your mobile or tablet directly in your browser, or you can download a dedicated mobile application provided by the online casino your playing at.
We really recommend players from India to check out this new live table game Kilic if you're not yet familiar with it.
Before doing this review we had very little experience with this live table game. But after a short time of playing this new game, we really enjoyed it and had great fun while playing Kilic.
Kilic FAQ
Does Kilic already exist under another name?
No, Kilic is a new live card game, but it is also known as "Lucky Cards".
Can I play live Kilic with my mobile or tablet?
Yes, you can play Kilic on a mobile or tablet, directly in your browser or with a dedicated mobile application.
What casino offers a live table with Kilic?
1xbet.com is one of many places where you can find a live table with the new card game Kilic.