In 2011 NetEnt released Gonzo's Quest, here you meet the maverick Spanish explorer with a huge lust for gold. Gonzo's goal is to find the location of Eldorado to get the Aztec gold. This was the first online casino slot that introduced us to the avalanche spins, replacing the regular reel spins. Gonzo's Quest has been a favorite among casino players for many years since its release and with its amazing features easy to understand why.
In this review, we will cover everything you need to know before starting the hunt for Aztec gold with the famous conquistador Gonzalo Pizzaro.
Who is the Online Casino Character Gonzo
We meet the Spanish explorer Gonzalo Pizzaro for the first time in this game, he's obviously not the sharpest tool in the shed. We meet up with the quirky conquistador off the coast of Peru in 1541 when launching the slot.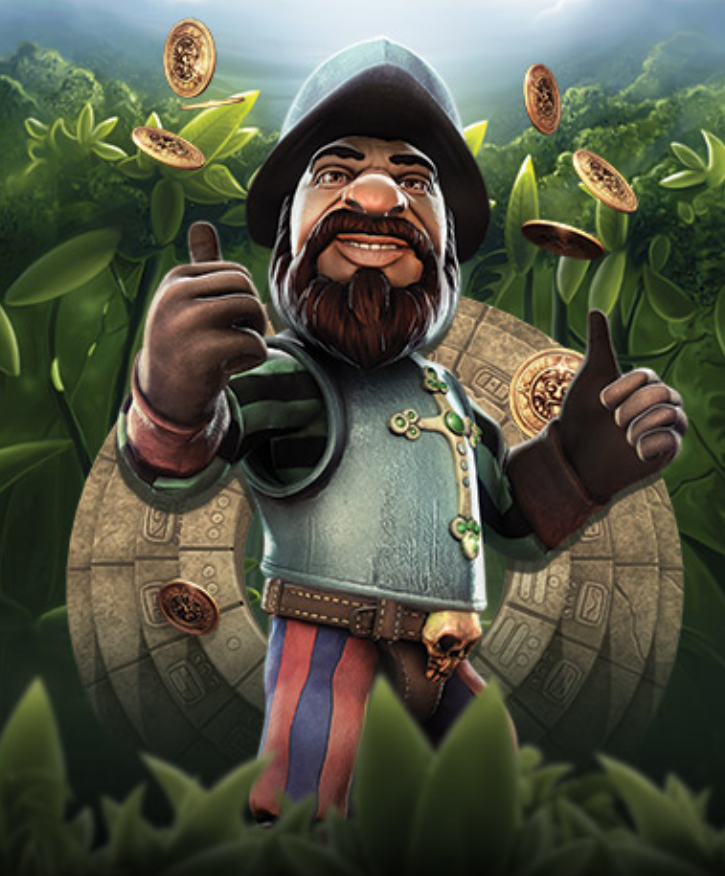 At present, he finds himself deep inside the jungle foliage pondering a mystical cascading avalanche of cryptic blocks. Gonzo needs help to discover the location of Eldorado to get the Aztec gold.
This great character will entertain you for hours while playing on Gonzo's Quest searching for the Aztec gold together. It has revolutionary gameplay with the avalanche feature and a beautiful theme that goes with it.
The Theme, Graphics, and Sounds
When you open the online casino slot Gonzo's Quest, you get to see an introduction video. Here you meet Gonzo and get to see how the story is set to be in the jungle with an Aztec/Mayan theme, looking for the lost city Eldorado to find the Aztec gold.
Not only did they make a great little cartoon animation intro for this online casino slot, but when you are playing this slot you got Gonzo on your screen talking to you, dancing, and celebrating your wins with you. So the theme, graphics, and sounds are just amazing on Gonzo's Quest. You will never feel alone when playing Gonzo's Quest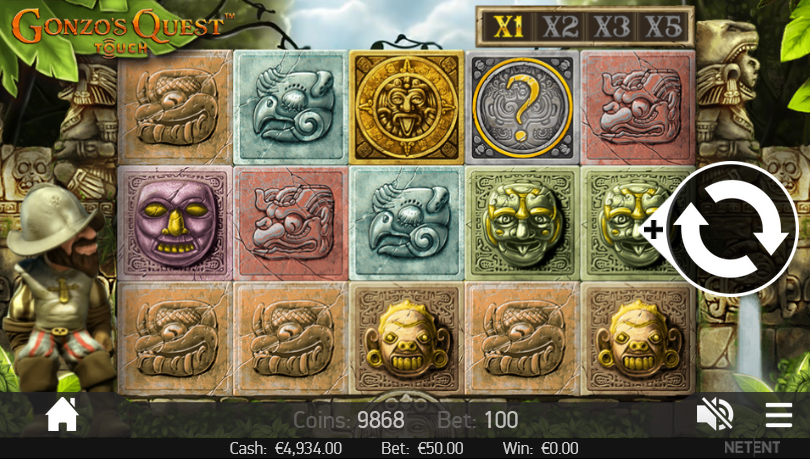 This slot came out in 2011, but it looks just as good in 2019. Everything with this game is very well-done and its no surprise its still one of the most popular slots out there. On this slot, you play in 3D alongside Gonzalo.
One really cool thing about Gonzo's Quest is that it's the first-ever online casino slot that is available in VR. We can't think of any better slot then this to make in VR since the theme and story are so great. Here you can see how the game looks in VR.
Symbols, Free Spins, and Other Great Features
Avalanche Feature
The game-changing part about this slot was the avalanche feature, this was the first-ever online casino slot to implant this type of gameplay. Many other slots have done the same, since the release of Gonzo in 2011.
What Gonzo's Quest did that no slot had done before, was to replace the classic 5 rows of spinning reels that we were so used to see on all online casino slots up-until the release of Gonzo's Quest.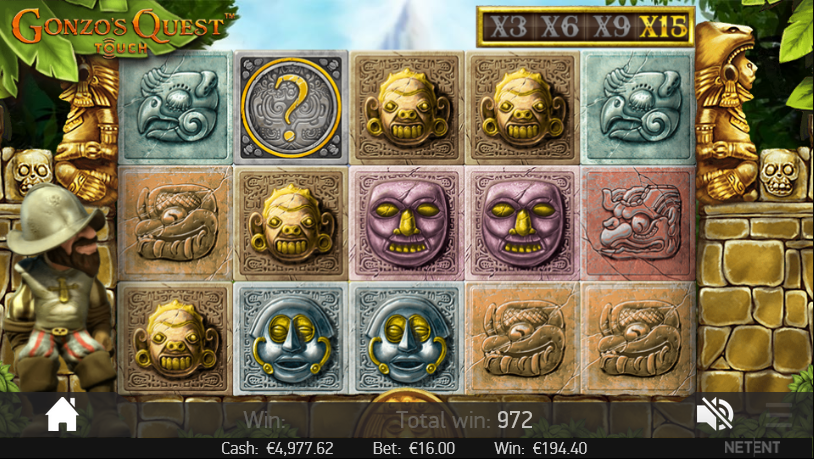 NetEnt replaced the classic spinning reels, with an avalanche of rocks with symbols on it, that comes falling in from the top of the screen. Whenever you land a winning combination of some sort these particular rocks will explode and more rocks will come down in another avalanche. This means you can win up to several times on one click with this feature.
Avalanche Multiplication
One thing that really makes this feature interesting is that every time you land a win, the rocks that make a winning combination explodes, and new rocks will come. Rocks will keep exploding and avalanches keep coming until you don't get anymore winning combinations that round. The winning multiplier increases for each avalanche you get on the same click for that round up to 5x, and in free fall you can get up to 15x.
Here is a list showing how much the winning multiplicator increases per avalanche while playing in the regular game and not in free fall feature:
First avalanche – 1x
Second avalanche – 2x
Third avalanche – 3x
Four or more avalanches – 5x
When an avalanche stops landing a winning combination the winning multiplicator will go back down to 1x.
Free Fall Feature
This is the free spin feature on Gonzo's Quest, and to unlock this feature you need to land three golden rocks (scatters) from the left. The question mark that acts as wild can substitute for a scatter to get the free fall feature unlocked. This is very rare that a slot lets you use a wild to substitute for a scatter.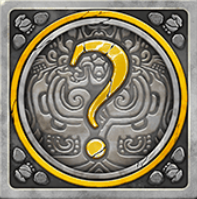 When you land three of these golden symbols you enter the free fall feature, which gives you 10x free spins with an increased avalanche multiplication. Here is a list showing the multiplication on avalanches during the 10x free spins:
First avalanche – 3x
Second avalanche – 6x
Third avalanche – 9x
Four or more avalanches – 15x
Just like when you play on normal mode on this free spin feature, the avalanche multiplication resets every time an avalanche stops landing winning combinations. It's also possible to win more free spins during the free fall if you get more golden scatters.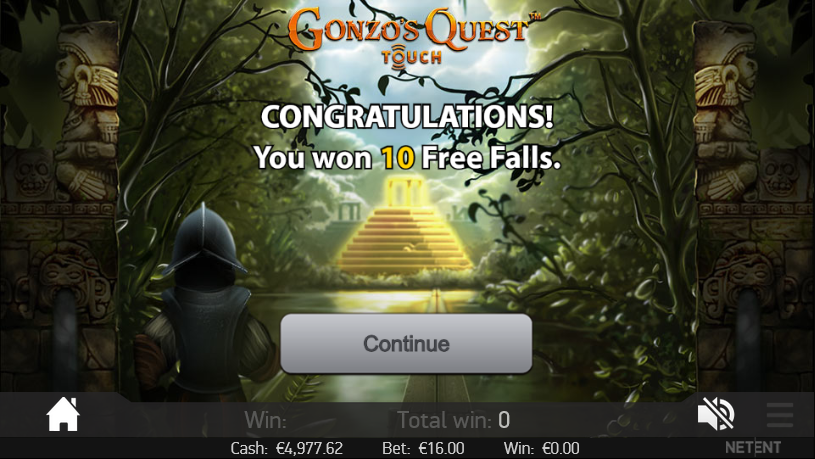 This free fall feature can be very lucrative if you are lucky and land some avalanches with some high avalanche multiplications, the potential of a huge win is always present on Gonzo's Quest.
Symbols
Gonzo's Quest got the Aztec/Mayan theme so of course, the seven different symbols used here will match the great looking theme. All the seven different symbols are implanted in rocks and pay off differently. As in most other slots, a winning combination here is when you get three of the same symbols from the far left to the right on the same payline.

Four of these symbols are different colored masks carved into rocks and the other three are beastly looking animals carved into rocks also. These are all the symbols that can combine a winning combination on Gonzo's Quest. From the most rewarding to least rewarding, starting with the blue mask, green mask, bronze mask, and a purple mask. The three beastly looking rocks are a bronze beast, a red beast, and a blue beast.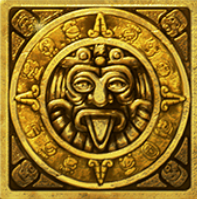 Other than these seven symbols, you got two more special symbols. One is a rock with a question mark, which acts as a wild that can substitute for any other rock to combine a winning combination. The other symbol is a golden rock that acts as a scatter that can trigger the free fall feature.
How to Play
On this slot you play with 20 fixed paylines with no options to change that, you only got two betting options you get to decide on Gonzo's Quest. That is how much the coin value should be, and how high bet level you want from 1-5, and the coin value stretches from €0.01 to €0.50.
Here is a list of some key options you should notice and decide before you start to play.
Chose bet level from 1-5
Decide coin value from €0.01- €0.50
You are playing 20 fixed lines
€0.20 – €50 per avalanche spin
Autoplay option is available
Nearly all online casinos we have checked have these coin values, but it was one casino that offered coin value up to €2, making it possible to spin for €200 per turn, and that was 888casino.

Autoplay function is also available on Gonzo's Quest if you prefer to just sit and relax while the avalanches drop down from the top of the screen. When using the autoplay you get some different options you can set before starting. The amount of spins stretches from 10-1000, and you can choose to stop the autoplay function if you get the free fall feature, or you exceed a fixed limit or drop below a fixed limit.
This is all you need to know about Gonzo's Quest before you can start making avalanches and crushing rocks while helping Gonzo reach the Eldorado were the Aztec gold can be found.
Return to Player (RTP)
Return to player (RTP) is on 95.97% on Gonzo's Quest. This is not the worst RTP among online casino slots, and NetEnt is known for delivering high RTP slots, all their slots have 95% or higher RTP.
Verdict
Gonzo's Quest is unique, fun and full of excitement. it's easy to understand why this slot is so popular among online casino players
The first thing you notice when you launch the game is the great story and theme behind Gonzo's Quest. Immediately, when you start the game you get to know the lead character Gonzales through a great little cinematic video. He is bouncing around your slot making noises, moonwalks across the screen, and catches big wins with his hat. All this in great 3D with a very good design.
Gonzo's Quest is a medium to high volatility, meaning that you can expect it to go sometime between every big win, but when you do first win big on this slot it got some really nice potential of paying very-well. In the regular game, you can see some really big wins with the 5x multiplication, but it's in the free fall game you can truly win big with 15x.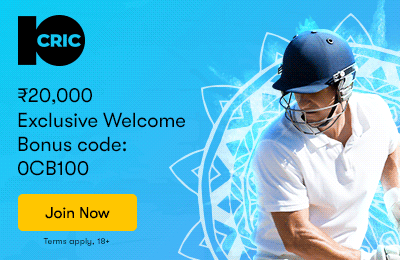 Since this game got released in 2011 it's been one of the most popular online casino slots out there, and it's not really hard to understand why. NetEnt created an awesome avalanche feature in this game that truly is revolutionary for online casino slots.
We can recommend Gonzo's Quest to everyone that have not tried it yet since the theme and gameplay are so unique and great at this slot. So why not check for on-going promotions or a bonus offer and find an online casino that has Gonzo's Quest and try this amazing game for yourself.
Gonzo's Quest FAQ
Where can I play Gonzo's Quest online?
NetEnt is the creators behind this revolutionary online casino slot. They are among the biggest and best game developers we know of, and their games can be found at almost all casinos.
Can I try Gonzo's Quest for free?
Yes, most online casinos give you the option to try the slot for free before starting to play with real money. You can even try the game for free at NetEnt's own homepage.
Is it possible to play Gonzo's Quest on a mobile or tablet?
Yes, you can play Gonzo's Quest on any platform you prefer. Many online casinos offer their own dedicated mobile applications that you can play on too. Gonzo's Quest looks just as good when played on a mobile, tablet or on a computer desktop
What is the current RTP on Gonzo's Quest?
The current return to player rate on this casino slot is 95.97%.
Can I play Gonzo's Quest in VR?
Yes, Gonzo's Quest is the first online slot ever that is possible to play in VR. So if you got a VR kit available, we recommend that you give this online casino slot a further look.