Football Studio is a live online casino game from Evolution Gaming that is specifically aimed at football fans. Here we tell you how it works and whether it may be a game for you to enjoy.
What is Football Studio?
Football Studio was originally introduced as a new live dealer game for the World Cup 2018. It was intended to accompany the matches and draw in football fans who wanted to discuss the live games and upcoming matches with other fans.
Introducing the game, Evolution Gaming explained: 'Live Football Studio is an unparalleled title that takes place in a football-inspired atmosphere…a super-fast and simple card game that offers chat, live match commentary, and goal celebrations.'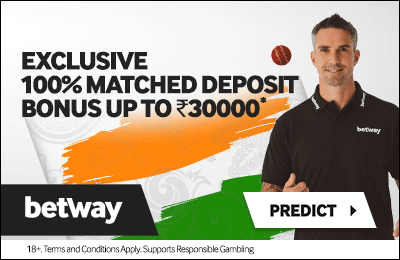 Even after the World Cup ended, Football Studio is a great game for football enthusiasts that can be enjoyed at any time of the year. Matches are always played and whilst the game does not offer live streaming, there is live commentary by the dealer.
Of course, not all games can be discussed, and the dealer will usually only watch a big match on a dedicated monitor in the studio, reacting to the action on the screen and discussing it with players that have joined the table. It's a very social setting and at the same time, a very simple card game will be played.
How to play
This is as easy a game as you can find and if you have played Dragon Tiger before, you will recognize the setup. Here, however, we get the Football Theme. The table looks indeed like a football pitch and we have one 'Home' and one 'Away' side.
The dealer will be drawing a card for the Away side and follow it up with a card for the Home side. Since this is a Top Card game, the higher card will win. A draw is also possible, of course, and bets are paid out accordingly.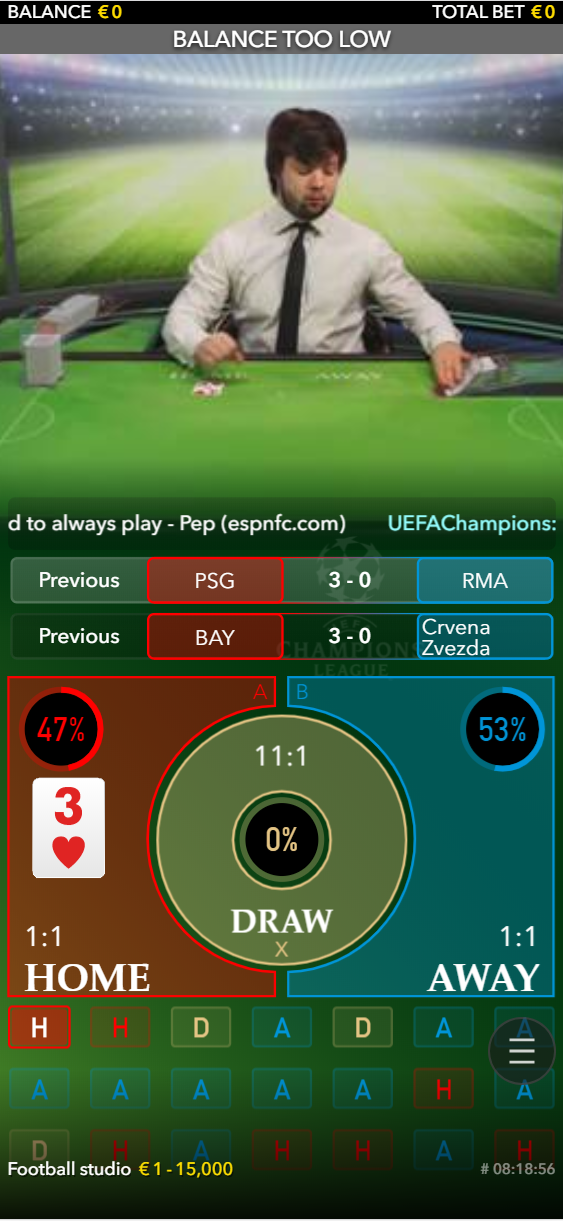 This is a very fast game, with one round taking only seconds to play. The football discussion and commentary are not the main part but add to the social factor here.
Bets and payouts
You get a virtual interface below the table on your screen and can place virtual chips on the options 'Home', 'Away' and 'Draw'.
Limits may vary between casinos, but the game is suitable for the budget-conscious just as much as for the high rollers.
Wins on Home and Away are paid out 1:1, whereas a Draw (or Tie) is paid out 11:1. If you have bet on Draw as well as Home/Away, your bet will be paid out 11:1 for the draw and half your home/away bet will be returned to you.
Is Football Studio for you?
If you are a football enthusiast who likes to bet online and misses the social aspect of betting at a bookmaker or have few friends with whom to engage in football commentary, Football Studio is a great alternative for you. You can be certain that only football fans will be playing this game. The dealer will be adding a fair share of his or her own commentary and other players in the game will engage as well.
You could be discussing a live match (which you can watch on your TV at home or via a separate live stream window on your computer) or you could be discussing an upcoming match. It's just meant to be fun and engaging and something a little different to get football punters into the live casino environment. Plus, the card game is super easy to participate in and may even win you a little money here and there.
Does my casino have Football Studio?
Whilst Football Studio is a relatively new table in the portfolio of Evolution Gaming, many online casinos with well-equipped live casinos will have included Football Studio in their library as well. You can almost expect it when your favorite casino is also a bookmaker with a decent live table selection.
Smaller online casinos may not have added it yet and those more focused on slots are unlikely to have it as well. When we check out a new casino for you, we will also visit its live casino and let you know whether Football Studio is among their tables.
By the way, mobile casino fans will be happy to hear that Football Studio is fully accessible via mobile as well. So, if your online casino offers the game, you can play it via your mobile device.
Football Studio FAQ
Where can I play Football Studio?
Football Studio is developed by Evolution Gaming and they are one of the biggest game developers we know of. You should not have a hard time finding Football Studio at an online casino since so many casinos work with Evolution Gaming.
Is it possible to watch a football game while playing?
Yes, some big football matches will be streamed live in the studio, and you can discuss the match while playing with the host and other Football Studio fans.
Can I play Football Studio on a mobile?
Yes, you can play Football Studio with your mobile, tablet, or from your desktop computer. Play Football Studio directly in your browser on any platform, or with an own dedicated mobile application.