Wondering what is Sic Bo and how to play this game? Are you struggling with getting wins? Want to know the secret of playing and winning this game? Hesitant to try this game because you've heard about it for the first time?
Well, hang in there, and by the end of this article, you will surely have all the answers you need!
If you want your excitement levels pumped up, this is the game for you. If you have enjoyed playing Teen Patti, Andar Bahar or Roulette on, you will enjoy Live Sic Bo.
You may wonder that how are these games connected? Well, they are not. We are just talking about the fun and excitement factor that makes these games irresistible.
What is Live Sic Bo?
Live Sic Bo is a very engaging dice game, and it is said to be a combination of craps and roulette. It is a 3-dice-game and the chances of winning depend on the numbers that show up. A shaker rolls all the 3 dice together to learn the outcome. As the game is played on a table, it can also be called a dice-table game. You can play this game very easily on casino mobile app
How to play Live Sic Bo?
After slots, if there is any game that simply depends on luck, Live Sic Bo is surely the one. You win or lose; it is all determined by the numbers that appear on the 3 dice. When you play Live Sic Bo, you can try from the various betting options available, they are usually displayed on the table.
The game starts with the live dealer putting the3 dice into a small dome-shaped container connected to an electronic trigger. The trigger is pressed, and the dice rolls, after which the player needs to bet on the outcome. If you have placed a bet that matches the dice numbers, you win.
You will find different versions of this game, where you will see the live dealer picking a more traditional approach. Instead of using the electronic trigger, the live dealer will roll the dice in a small flask and let the 3 dice out on the table.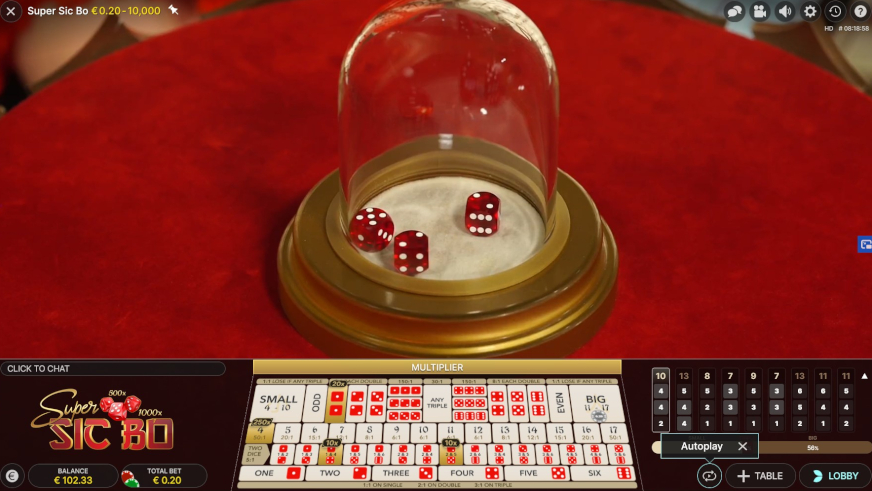 Live Sic Bo Betting Options
While playing Live Sic Bo you will have varied betting options. Let's look at them and understand their payout, respectively.
Small/Big: When you place your bets on the sum of the three dice, and it is a number from 4 to 10, it's a small bet. Whereas if the sum of all the 3 dice is from 11 to 17, it is said to be a big bet.
The catch here is that if you get triples (1-1-1, 2-2-2, 3-3-3, 4-4-4, 5-5-5, 6-6-6), you lose the bet. That is why the numbers 3 and 18 are not a part of the Small/Big bet as they are the most likely outcomes of triples.
Odd/Even: When you place your bets on the sum of the three dice, and the winning bet number is either Odd or Even, you win depending on your bet. Triples will make you lose the bet.
Total: When you place your bets on the sum of the three dice, and you guess the correct total from 4 to 17, you win the total bet. The numbers 3 and 18 are left out, as they are Triples.
Single: When you bet on a single number from 1 to 6, and if that number pops up on any of the dice, you win. You can choose up to 3 dice to place your bets.
Double: When you place your bets on a single number that can pop up on two dice, you win a double bet.
Triple: When you place your bets on a single number from 1 to 6 that can pop up on all three dice, you win this bet.
Any Triple: When you place a Triple bet on Live Sic Bo, all three dice must have the same number. You don't have to predict the number in this bet.
Combination: When you place a Combination bet, you predict two numbers that can pop up on two dice. The 3rd dice number is not important in this bet. You can choose your bet from the 15 possible two-dice combinations marked on the table. Many call this a Domino bet.
Betting Payout:
To make it easy to understand, we have curated a table with all the types of bets and the payout they offer. This will help you in making the smart choice and maximize your winnings.
| | |
| --- | --- |
| Bet | Payout |
| Small/Big | 1 to 1 |
| Odd/Even | 1 to 1 |
| 4 or 17 | 60 to 1 |
| 5 or 16 | 30 to 1 |
| 6 or 15 | 17 to 1 |
| 7 or 14 | 12 to 1 |
| 8 or 13 | 8 to 1 |
| 9 or 12 | 6 to 1 |
| 10 or 11 | 6 to 1 |
| Single | 1 to 1, 2 to 1, 3 to 1 |
| Double | 10 to 1 |
| Triple | 180 to 1 |
| Any triple | 30 to1 |
| Combination | 5 to 1 |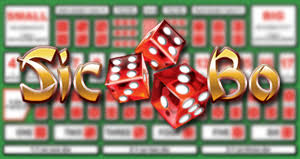 SIC BO winning strategy
Striving to get winning results as a beginner? Are you frustrated with lacking back in the game and losing? Do you ever wonder how other players manage to have consistent wins? Do you want to know the ways you can increase your winning chances at Online casino sites while playing Live Sic Bo?
You are in the right place. These tips can help you in making smart decisions that can help you bag a win.
Don't place too many bets in a single round – It is easy to get tempted when you have so many betting options. But stop right there. It is not wise to make too many bets, even though your winning chances increase at online casino sites because there will only be one winning bet in each round. Imagine how much will you end up losing if you make the wrong bets.
Try placing more small/big bets – The odds of this bet type are good, and they have a small house edge. This will give you a good winning amount.
Try using Combination Bets – The odds for this bet are 5 to 1, which means you can win once in every five bets. You can have a higher chance of winning.
Avoid betting on triples – If you make this bet, you can win once in a blue moon, if you have guessed the correct number. So, this is one of the risky bet and is avoided by many, because of its lack of occurrence.
Have faith in luck – The Live Sic Bo game is completely based on luck and if you don't believe in luck, you have already lost the game.
Don't place a foolish bet – The best way to ensure a win on online casino site is to avoid making bets that can make a hole in your pocket. Don't place bets with a huge house edge and bad odds as the likeliness of winning is itself reduced.
Don't fall for the gambler's fallacy – The gambler's fallacy is a belief that if something has happened a lot of times, it is likely to happen again less after a series of events.
This belief surely is not meant for luck-based games as the outcome is not dependent on the previous one. So, avoid following this in Live Sic Bo, Craps, and any other game of chance.