Dream Catcher is a live casino game developed by Evolution Gaming and it is the developer who touts the game as simple, super-sized fun. How to play this wheel-of-fortune type game and whether it is as fun as Evolution Gaming claims it to be, we will see here.
What is Dream Catcher
Evolution Gaming calls it a classic Money Wheel, though Wheel of Fortune would also be an appropriate term. We are looking at a large wheel with many segments and numbers on it that repeat.
Money Wheels are a popular staple at brick-and-mortar casinos in Las Vegas and people often gravitate towards them. That was the idea behind developing Dream Catcher as well. A simple game that would especially attract slot players. Though it should also be attractive to Roulette players, lottery and bingo players.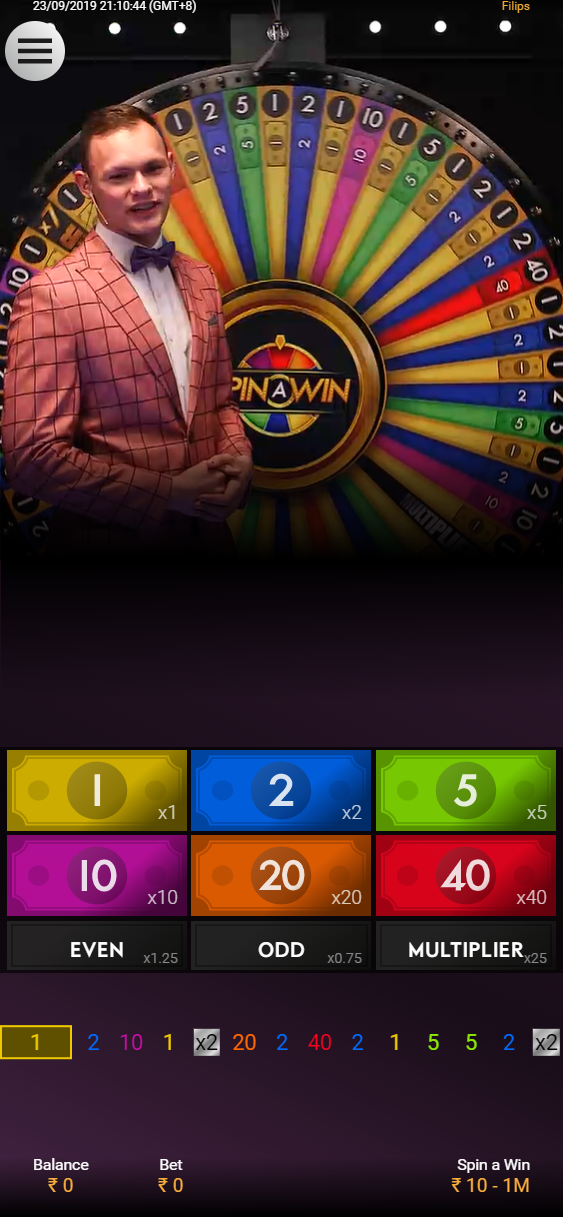 The Dream Catcher wheel was built by TCSJOHNHUXLEY exclusively for Evolution Gaming and they are still the only ones who have a Money Wheel in their line-up of games. Dream Catcher was the first such game, but it was never meant to be the only one.
How to play
Simplicity is the keyword. Players accessing the game from anywhere in the world must choose what number the wheel will land on once it comes to a standstill. The segments on the wheel show us the numbers 1, 2, 5, 10, 20 and 40. Additionally, there are two segments with a 2x and 7x multiplier that will come with some of the biggest payouts.
The 40 only gets 1 segment and the 20 is represented twice, whilst 1, 2 and 5 are represented the most.
Players will simply bet money on the number they believe the wheel will stop on. Since there are only six numbers to choose from and the numbers are each appearing in different frequencies, this game is even simpler than a lottery game.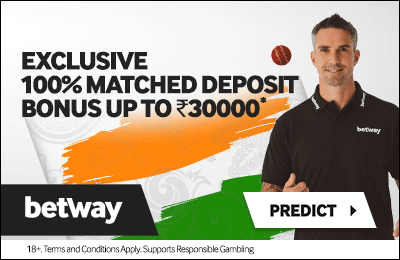 Bets must be placed within the table limits, which you can clearly see on the screen. A traffic light system will show players when they can bet. Green indicates betting is open, amber warns that betting is nearly closed and when the red light is on no further bets are possible until the next round.
Players select the value of the chip they want to bet and choose among the various options available on the screen. It is possible to bet on all numbers at once. If a 20 or 40 ends up winning, your losses would be very small compared to your winnings.
Dream Catcher Payouts
Since the different numbers appear in different frequencies on the wheel, the payouts vary depending on the number you land. Thus, the house edge is also different for each number as are the RTPs.
The easiest overview is in form of a table:
| | | | | |
| --- | --- | --- | --- | --- |
| Number on Wheel | Number of Segments | Colour of Segment | Payout | RTP |
| 1 | 23 | Yellow | 1 to 1 | 4.66% |
| 2 | 15 | Blue | 2 to 1 | 4.49% |
| 5 | 7 | Purple | 5 to 1 | 8.76% |
| 10 | 4 | Green | 10 to 1 | 3.42% |
| 20 | 2 | Orange | 20 to 1 | 7.26% |
| 40 | 1 | Red | 40 to 1 | 9.19% |
| X2 | 1 | Black/silver | Multiplies payout of next winning number by x2 | – |
| X7 | 1 | Black/gold | Multiplies payout of next winning number by x7 | – |
If the multiplier segments are hit on a spin, they will lock into place and are applied on the next spin, adding the multiplier accordingly.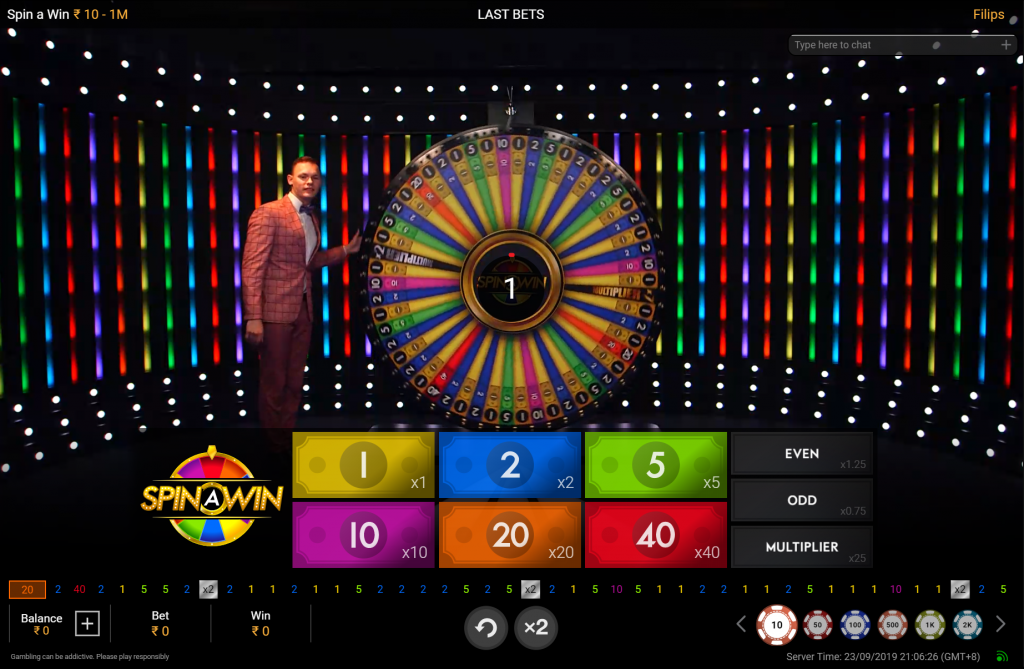 It is potentially possible that multipliers are hit twice or even more times in a row, in which case they will be added up until a number is eventually hit. The maximum payout here would be €/£500,000, however.
Software, settings, and optimization
Dream Catcher is a dedicated live casino game, which you won't find in brick-and-mortar casinos. You will find different types of Money Wheel games, but not Dream Catcher, which is exclusively available to online casinos working with Evolution Gaming. But even then, you will find that not all casinos will have added Dream Catcher to their portfolio. We have encountered a fair few where you won't find it.
Dream Catcher comes with a multitude of settings that will allow you to optimize it to your own preferences. You can set auto-play, which allows you to decide a limit of rounds you may want to play and set other limits such as wins and losses as well.
The bet limits are usually between €/£ 0.10 to €/£ 5,000 in a single round. This may vary between casinos, though, but these are the limits you will most commonly find.
You can choose to view Dream Catcher in HD quality, but you can also adjust the video quality to your preferences if you don't have the bandwidth.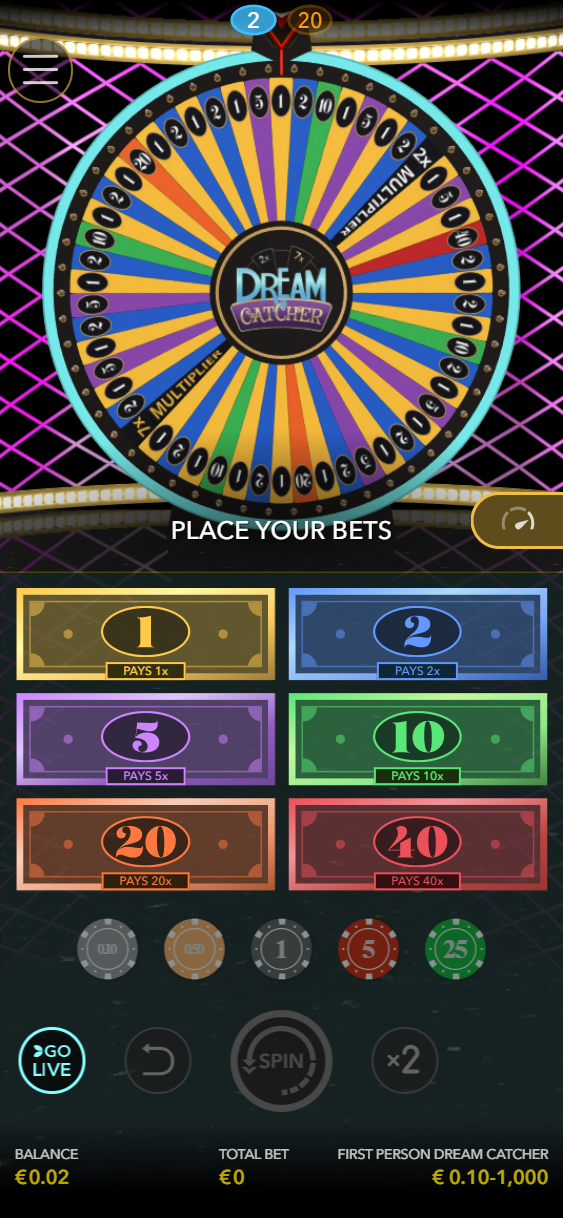 Dream Catcher is also fully optimized to be accessed via mobile devices and is fully compatible with Android and iOS operating systems.
A chat function enables you to talk to other players or interact with the host. This and other features make this game as immersive as if you were in Vegas, though you can always opt-out and play in peace and quiet as well.
Strategies
As with almost all online casino games, there is no sure-fire strategy that allows you to win Dream Catcher most or all of the time. In fact, this is as much of a game of chance as Roulette or any lottery, even though your odds might be better here.
As such, we have no strategy that will help you win at Dream Catcher because it is a matter of pure luck. There are, however, betting strategies you might want to consider.
Dream Catcher is offering options for the slow and steady players, who like to win often, even if wins are likely never going to be huge, but at least they can keep their balance up. Those players will only bet and 1, 2 and 5 (probably all at once), covering more than half the wheel segments, which makes wins much more likely. A multiplier here and there may even make it worthwhile.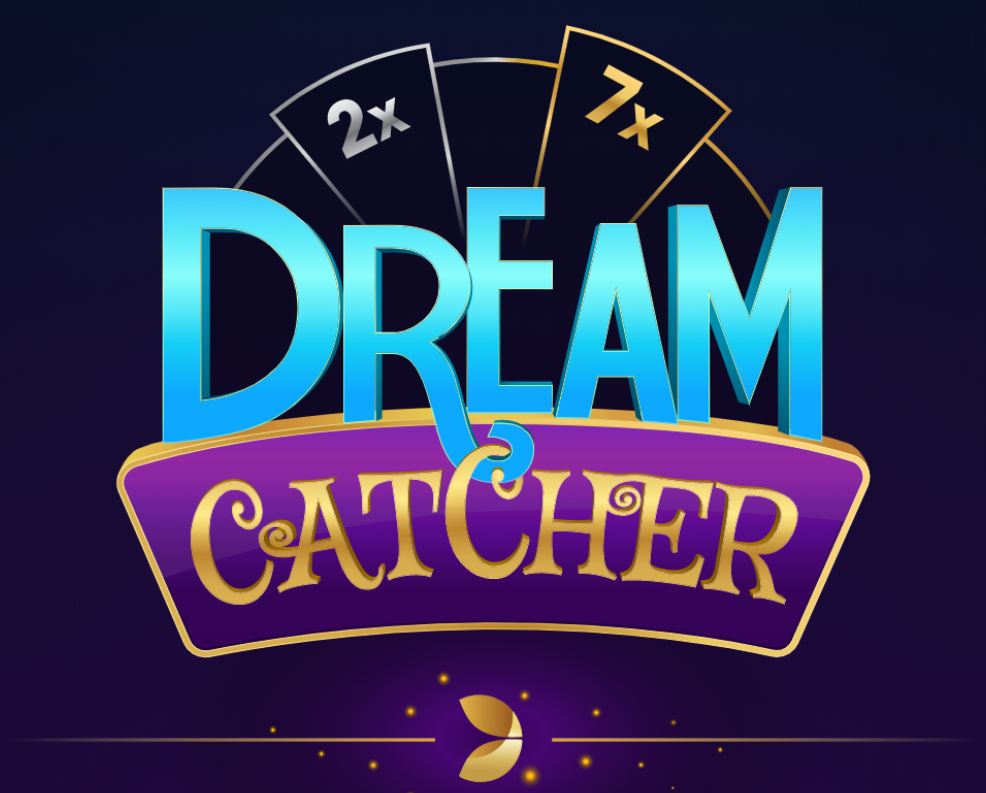 But high-risk players will also find enjoyment here, betting solely on the numbers 10, 20 and 40 (perhaps including the 5 here and there), hoping for multipliers and the rare big payout. If you want to take a riskier approach, this would be your betting choice and with a little luck, it may pay out.
The most important thing to keep in mind is to have fun. Also, you should decide on your betting size (regardless of whether you prefer the safe or the risky approach) beforehand and stick with it. You should also add a loss limit and stop playing once you have reached it.
If you manage one big win, it's time to leave as well, because this will likely be a one-time event.
Dream Catcher FAQ
Where can I play Dream Catcher?
Basically, at any online casino that offers live games from the game developer Evolution Gaming. They are one of the biggest game developers we know of, so you'll find Dream Catcher at most online casinos.
Are there any betting strategies in Dream Catcher?
You got no foolproof winning strategies in Dream Catcher, but since you can place your bets on up to 6 different markets, you can always have a system or place smarter bets than others.
Is Dream Catcher only available on a live table?
No, you can play a no-live version of Dream Catcher if you prefer that at most online casinos.