In 2011, Jackpot 6000 got released by Net Entertainment (NetEnt). NetEnt is one of the leading game developers in the world. They have been providing premium gaming solutions to casinos all over the world since 1996 and got over 1000 employes worldwide. They provide us with some of the best online casino slots we know of such as Starburst, Arabian Nights, Mega Fortune, Hall Of Gods, Narcos, Dead Or Alive, and many more top online casino slots.
This slot was originally placed in stores in Scandinavia with huge success, so of course, NetEnt made an online version of this beloved classic slot.
The Theme, Graphics, and Sounds
Jackpot 6000 is a classic fruit slot, but it has two special features that really make this slot stand out compared to the other classic fruit slots. Since it's a classic slot, the theme is set to Las Vegas.
In the background of the slot, you can see more slots giving you the feeling of being in a casino lobby while you are playing. This is a beautifully designed classic slot that's been very popular in every casino that has NetEnt games in their library.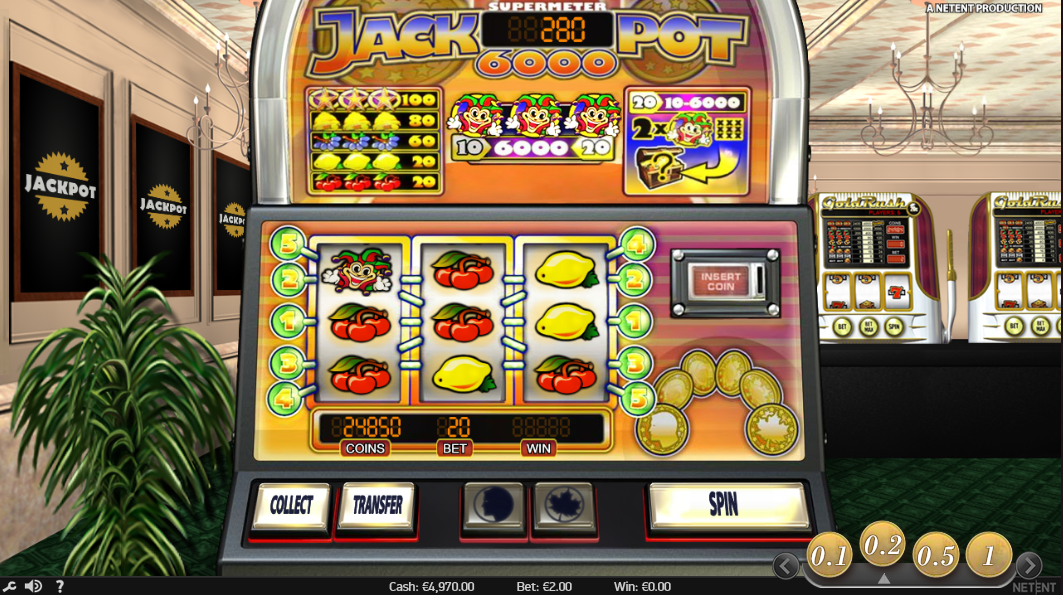 When Jackpot 6000 is played on a mobile or tablet it gets a lot more modern design and graphics, than when it's being played in the web browser. More on mobile play on Jackpot 6000 further down.
The only thing we find a bit annoying with Jackpot 6000 is the sound it uses. There is no background music at all, you can only hear the sound of the reels spinning. Every time you land a winning you get to hear a speeding up sound as the coins count up, we are really missing some kind of background music and the sounds provided by Jackpot 6000 while playing this slot is hard to listen to over a period of time.
We recommend you set on your own favorite music or simply mute the slot if you don't like the sounds.
Symbols, Heads or Tail Feature, and Supermeter Feature
Symbols
Let start by explaining all the symbols used on Jackpot 6000, in total it's 6 different symbols. Here is a list of the six, starting with the highest-rewarding symbol to the lowest-rewarding;
Joker – 6000 coins
Star – 100 coins
Bell – 80 coins
Grapes – 60 coins
Lemon – 20 coins
Cherries – 20 coins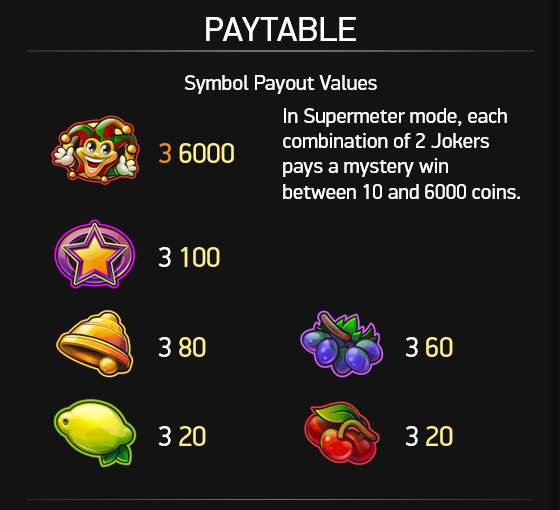 Example: You play with 5 fixed bet lines with 2 coins per bet line at different coin values. meaning if you play with 0.2 coin value with a price of €2 per spin and get the joker that awards 6000 coins, and you win a total of €12,000.
Heads or Tails Feature on Jackpot 6000
Every time you get a winning combination on Jackpot you get the option if you want to collect or gamble it on heads or tails. If you choose to gamble you have to pick between a coin that got a human head on it (heads) or go for the other option that's a coin with a maple leaf on it (tails). Basically, this a double-up feature that many online casino slots offer.
What's really unique with head or tails on Jackpot 6000 compared to other slots with a gambling feature is that Jackpot 6000 got a "transfer" button on the slot. For example, if you win 100 coins and just wanna gamble 60 of them you can click twice on transfer and collect 40, then only gamble for 60 coins. Every time you click the transfer button you reduce the total amount you wanna gamble with 20 coins.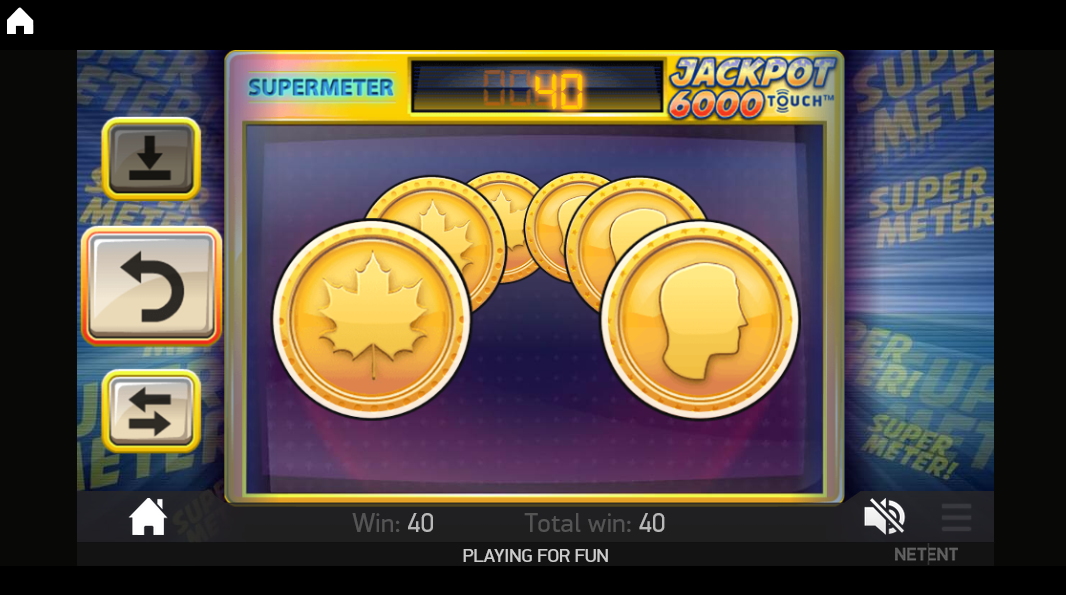 We can't find any maximum win limit on this feature, so it seems there is no limit on how high you can gamble your win to under the heads or tail feature. We suspect it stops at 6000 coins since we don't get to gamble when we win 6000 coins, but for now, we have not been able to gamble that far to check it out.
Supermeter Feature
This is the most exciting feature on Jackpot 6000, and what made this slot so popular among all the classic fruit slots. This supermeter feature gets triggered when you simply land a winning combination. So when you land a winning combination you get 4 options:
You can collect your winnings
Head or tail gamble feature
You can transfer and gamble some
Or you can choose to play supermeter with your winnings
So, it doesn't matter how much you win, you can always choose the supermeter feature when landing a win. If you like to double your money on heads or tail, and then play supermeter if you win, that's an option too.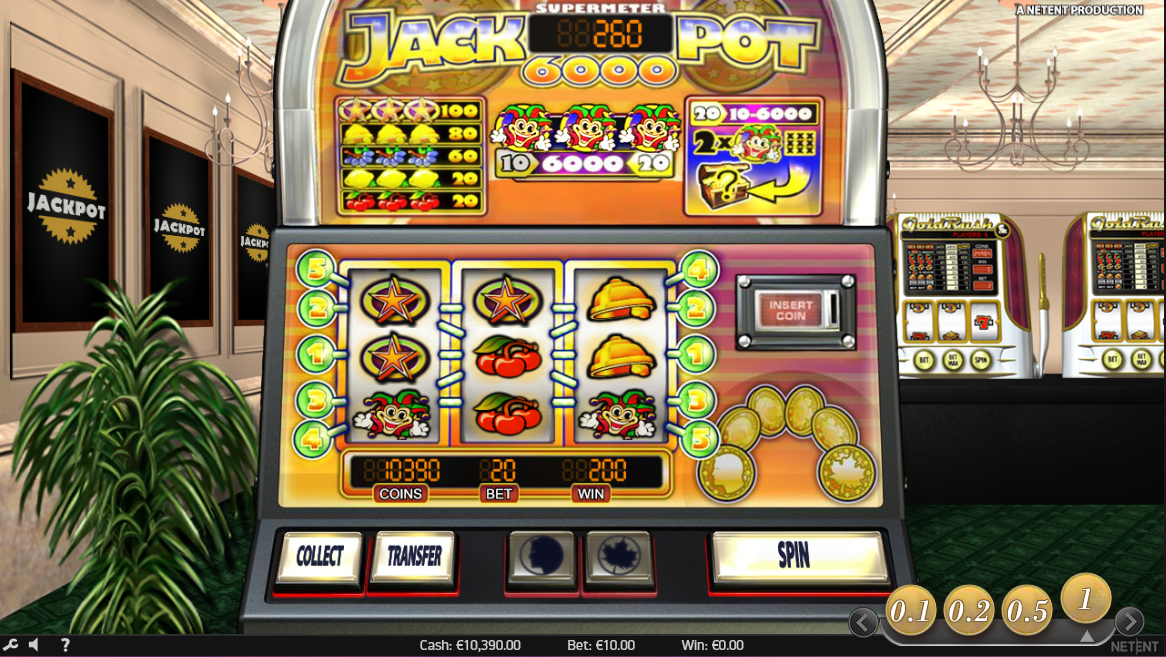 When you are playing in the "normal" game, you play with 5 lines with 2 coins per line for 10 coins per spin. In the supermeter feature, you play with 20 coins per spin. You can decide to leave the supermeter feature whenever you like just by clicking collect or transfer.
The payouts stay the same on all the symbols when playing the supermeter, so why would you play in this feature you might ask. Well, the answer is simple, and its what makes this slot so unique and fun. When you are playing in the supermeter feature you only need 2 joker symbols anywhere on the reels and you win a random amount of coins from 10-6000. If you reach 6000 coins in the supermeter, you're automatically moved down to the "normal" game again with your winnings.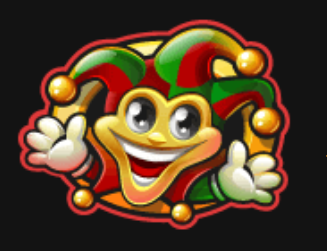 This feature is so fast-played, fun, and exciting all on once that we simply love this feature.
How to Play
This is a really easy-to-play online casino slot since you playing 5 fixed lines in only 3 reels in 3 rows, with only 6 different symbols. Before you start to play and spin the reels you should be aware of these options:
You playing with 5 fixed paylines
Coin values available is €0.1, €0.2, €0.5, €1.
Bet size from €1-€10
Head or Tail feature
Supermeter feature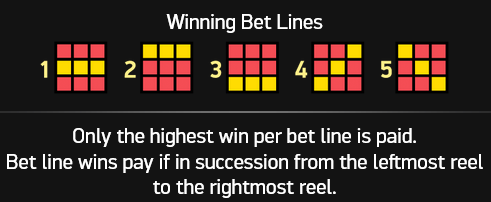 That's all you need to know before you are ready to play this fantastic classic fruit slot with some exciting features.
Mobile Play
Yes, you can play Jackpot 6000 on any platform you prefer, as mentioned above it gets a lot more modern and classy design on mobile then it has on a desktop browser.
It can be played in-browser on your mobile at all casinos that offer games from NetEnt, and you can also play it on all the different dedicated mobile applications the online casinos have.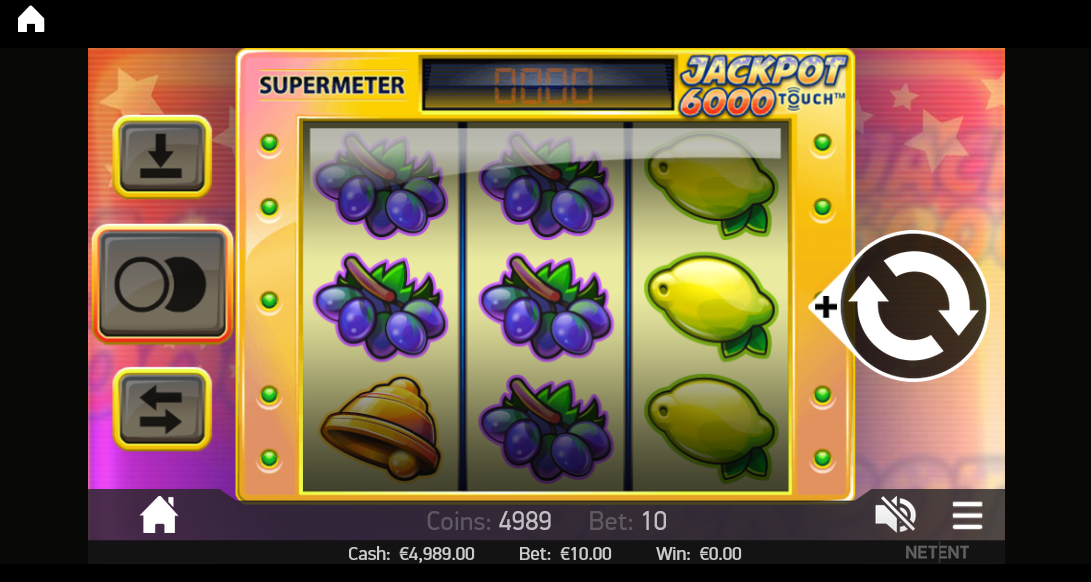 We recommend you play on a mobile or tablet if you prefer the modern-looking classic slots, but if you prefer the old looking vintage classic slot in Las Vegas-style we recommend you play it on a desktop browser to give you the best experience.
Return to Player (RTP)
The return to player (RTP) on Jackpot 6000 varies a bit from 95.10% – 98.90%. One of the reasons for this variation on this slot its because of its heads and tail feature and the supermeter feature. This impacts the RTP since the player decides what to do and it may vary some % because of that.
Remember the RTP is just a theoretical percentage taken over extremely many spins on Jackpot 6000. So if you play for €100 you don't necessarily win €95, since the RTP is calculated by a crazy amount of spins.
Verdict
A classic fruit slot with some awesome features that dont seem to lose any popularity on online casinos
If you are looking for an online casino slot with a lot features such as bonuses, free spins, jackpots, and other exciting features you should probably look into another casino slot. This is a very simple slot with only 2 small features on it, but its fast-phased and fun.
Highrollers will probably be disappointed here too since the maximum bet per spin is only on €10 per spin, but new casino players will be happy to play on a slot that offers play on a low limit.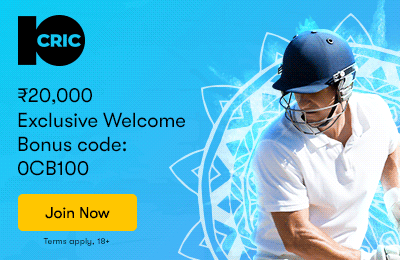 So, our final verdict is that if you enjoy classic slots and don't like to spin for more then €10 per turn you're gonna love Jackpot 6000. We really recommend new players and old players that enjoy classic slots to check it out, and if you one of those persons who wanted a lot more features on a slot you can probably find a better-suited slot, such as Book of Dead or Mega Fortune Dreams to play on. Since those types of online casino slots offer way more special features.
Jackpot 6000 FAQ
Where can I play Jackpot 6000?
Jackpot 6000 got created by Net Entertainment (NetEnt) back in 2011. This online casino slot can almost be found at any online casino since NetEnt is one of the biggest game developers we know of, and so many online casinos got their games in their library.
Is it possible to play Jackpot 6000 on a mobile or tablet?
Yes, actually this game gets a whole new and way more modern design when played on a mobile or tablet. If you prefer the old theme with a slot placed in a casino lounge we recommend you play it in a browser on a desktop. But if you prefer a more modern and smooth looking design we recommend you play this game on a mobile or tablet.
What is the return to player (RTP) on Jackpot 6000?
The RTP on Jackpot 6000 varies between 95.10% – 98.90%. The reason this vary is because the supermeter feature gives the casino player a choice that reflects back on the RTP.